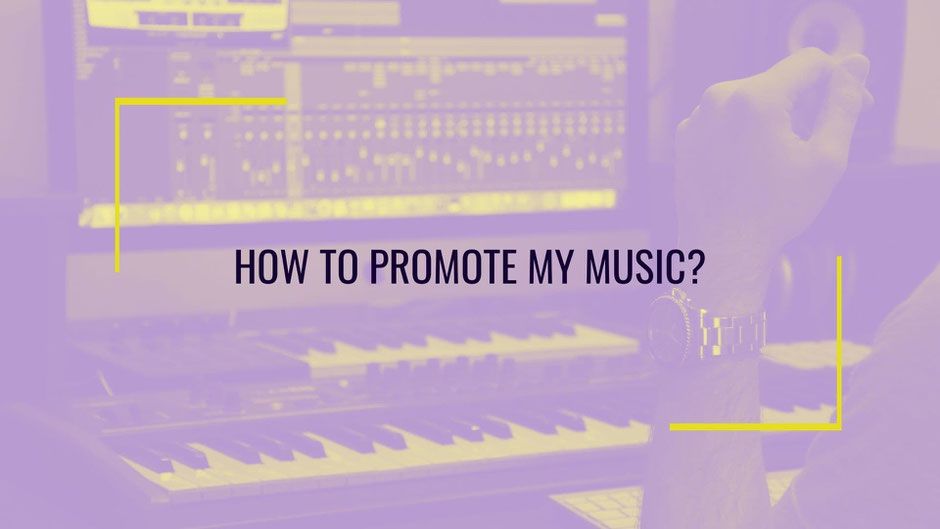 Back in the day, independent musicians had to struggle to get their music heard. Today it's easier than ever to promote your music. If you want to get your name out there, start getting your tracks heard, and generating money from your music - This guide is for you! We will cover how to promote your music on social media and with playlists.
Before we start, remember that every platform has its own powerful features. The key is to develop a strategy on how they can work together!
Let's dive right in!
Social media Promotion
Sharing your tunes on social media isn't the only way to promote your music. To be honest, you can't build a compelling profile only on the basis of your tracks. You can tweak your EQ, DAW, delay, or reverb to make everything sound perfect, but what's the point if nobody cares to listen?
Building a story around your music and communicating with your audience are the most important aspects of social media promotion, and this is how you do it!
Build your Fanbase on youtube
Youtube is totally free, and it has grown to be a powerful component in the music industry, with over 2 billion users. The first step is to create a professional-looking 'Artist channel'. From there, you may share anything with your audience, including music videos, live shows, jams, and Q&As. The idea is to have a diverse range of content that you can organize using various playlists. Reaching out to similar channels is a great way to get in front of more people. Make yourself visible by leaving comments on their videos!
This is how you get started with Youtube:
Create a YouTube Channel

Claim your Official Artist Channel - OAC (Youtube's equivalent of a verified artist profile)

Optimize your channel with photo/avatar, banner, icons, description, links to website and social media.

Add any related channels in the "Featured Channels"-section (like the label or other projects you have been involved in)

Add sections to your channel

Customize your channel URL so it's easy to remember

Optimize your videos with keyword-rich titles so users can find you when searching for relevant topics. Add thumbnails, cards, watermark, tags, and descriptions.

Upload different kinds of videos! (Music videos, live videos, streams, covers, behind the scenes, How-tos, etc.) Be creative!

Set a schedule and stick to it. Channels with consistency get more subscribers!
Reach potential fans on Soundcloud
Soundcloud's most distinct feature is its unique take on comments. You can let fans remark on different sections of the track using the waveform. This is a fantastic method to interact with your audience and learn about their preferences. Inviting your audience to engage and provide comments is a great idea!
The Tag feature assists in getting your songs in front of your target audience who digs the same kind of music you're making. You may also include a 'buy' link in your tracks to send your followers wherever they can buy your music. Alternatively, why not give them a free copy of your best track? If people like you as an artist, they are more inclined to help you reach success.
Follow these steps to get started with SoundCloud:
Upload your tracks

Tag your tracks with relevant tags like genre, moods, or location

Find your target audience

Find channels that can repost your music like repost channels, other artists, promotional channels, labels, etc.

Add a 'Buy' link to your tracks

Comment on different sections in the track to get feedback and engagement from your audience.

Create artwork that stands out on Soundcloud and when shared on social media

Share other artists in your channel and build relationships

Share your tracks on all social media platforms

If you have a budget, try SoundCloud promotion for more visibility
PRO TIP: With the Pro-subscription you don't lose your comments, likes, plays, and stats when you replace your track.
Engage with potential fans on Facebook
Facebook should serve as a primary hub for all things related to your music. Facebook isn't recognized for being a music platform like SoundCloud or Youtube. Consider it a hybrid of your YouTube channel and your own website, and utilize it to promote yourself! Let's say you post your music on SoundCloud and YouTube. Then share your tour dates on Facebook. Promos, upcoming album releases, and band announcements are all fantastic things to post on Facebook.
Get started with Facebook promotion:
Create a business page, you don't want to promote your music from your personal page.

Update your business page with relevant information, logo, cover photo, and contact information

Include links to all of your other music websites

Post a variety of posts of live shows, studio work, releases, behind-the-scenes, or equipment

Use hashtags to create "series" of content, for example, a favorite album of the week or weekly snapshots

Create events for upcoming gigs

Share your music in relevant Facebook groups

Run ads to promote new releases, events, or announcements

Answer comments and interact with the fans
Playlists on streaming Platforms
Streaming services and online playlists have become the new method to listen to music. Why? Because you get access to millions of songs in no time. As an artist, you'll get access to millions of potential fans.
Pitch your music on Spotify Playlists
Unlike social media, Spotify isn't the best platform for interacting with your fans. However, when it comes to music promotion, their playlists are quite effective. So how do you get in? You have to pitch your music to playlist editors.
You only need to create a 'Spotify for Artists' account and start reaching out. There are hundreds of playlists available for various genres that are relevant to your music. You should also start creating your own playlists with other artists. This will broaden your reach even further. It boosts interaction and encourages fans to think of you in the context of other artists.
To reach as many potential fans as possible, you need to get your masterpiece into as many relevant playlists as you can. Adding your music to a playlist and getting it featured might result in hundreds, if not millions of monthly listeners.
Sign up for a 'Spotify for Artists' account

Upload at least 2-3 high-resolution pictures of you or your band

Update your bio to something compelling and add links to your social media

Link to your latest single in the "Artist's Pick"

At the top of Home, click "PITCH FROM NEXT RELEASE" and write a good editorial playlist pitch

Release your song

Link to other platforms that have your song uploaded

Pitch your music to a few user playlists that match your genre, the more specific the better.

Make your own "Artist Playlist" with similar artists and tag them on social media

Keep making content that keeps reminding people to listen
Playlists on Apple Music
Apple Music's promotion is quite similar to Spotify's, and it is mostly based on playlists. The first step is to register, claim your artist account, and get your account confirmed. The downside to Apple Music is that it's a far more complicated process than promotion on Spotify.
If you're a new artist, you'll need to deal with aggregators, which are Apple-approved music distribution services. They will upload your music in exchange for a fee or a share of the revenues. The complicated process aside, the opportunities are huge!
You may post your own songs on the app if you're a veteran in the industry. So are you considered a veteran in the eyes of Apple? Probably not. The bar is rather high and you must have at least 20 produced albums. Besides that, you'll need an International Standard Recording Code and a Universal Product Code.
Sign in to 'Apple Music for Artists' using your Apple ID

Request artist access and follow the steps on the screen

Update your Apple Music artist profile with high-resolution photos, bio, and social media.

Upload your music using a third-party aggregator (fee is either commission or percentage of royalties)

(If you have more than 20 albums released and a Universal Product Code and International Standard Recording Code you can upload your songs to Apple Music yourself)

Design in stunning cover art (people will see your cover art before they hear your song)

Create your own playlist including your tracks and similar artists and share on social media

Start building relationships with owners of other playlists

Pitch your music to other playlists

Try to get your music into Apple's playlists by collaborating with an aggregator, distributor, or record label.
Conclusion
So now you know how to promote your music as an independent artist! You have millions of potential fans waiting to hear your tracks. Some are using Spotify, while others are using Youtube or Apple Music. To be successful you need to be available everywhere. Develop a strategy for each platform and take advantage of all the primary features. Don't forget to add compelling artwork and link everything cross-platform. Get out there and start promoting!