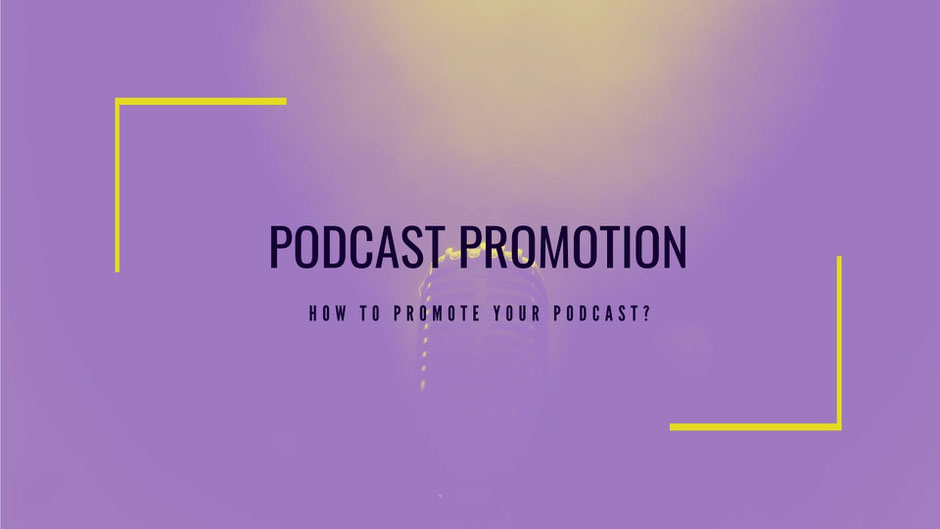 If you have toyed with or started your own independent podcast, you have quickly realized that marketing and promotion tactics are necessary for growing and developing its success.  Gearing your podcast for promotion can be Some techniques can be easy, while some require more effort or take more time to create the organic build of those who listen.
However, it's hard to know which promoting tactics actually work the best for independent podcasters and their niche. You should always keep in mind that the ultimate goal of any podcast, whatever your niche or business, should be to provide your listeners with value. People will not listen to a podcast that is not educating or giving them something they want or can use.
There are plenty of good ways to promote your podcast, both innovative and simple. However, it would be helpful to consider gearing with a few simple promotion tactics, and when you start to gain some ground, move on to more complex or time-consuming tactics for advanced growth. 
Here are ten tangible ways that you can promote your podcast and yield great results.
Submit your Podcast Across Multiple Hosts
Podcasts can be submitted over multiple locations. While it may seem like a simple way to promote, it can be effective for you to spread your podcast and have it listed in more than one place. Apple is one of the most prominent places for listeners, but Google and Spotify are two others that are relatively well-known and gaining more ground for people to listen to podcasts on as well. The takeaway here is not to limit yourself to one platform if you have the option to have your podcast in more places.
Any or most of the hosting sites where you can submit your podcast are free, too, so there are no limitations for you. It would help you do your research and find who your ideal listener is so that you can see what platforms they use to tune into podcasts and be sure that yours is in the mix.
Share listener Reviews within your episodes
People love being given a shoutout and hearing their name on a podcast, and this is a great way to promote and engage your listeners so that they will anxiously await the day their review is read on your show. In addition, you can have them tag you on social media to ask questions that you can answer within episodes or simply provide you with some feedback. It is a great way to grow your following for your podcast as well as through your social media channels.
Once you have some listeners that like and review your podcast, you can read their stellar feedback in future episodes and give them recognition and praise. It will engage your listeners and provide you with valuable feedback on how you might be able to improve or deliver those listeners more of what they want.
Ask you listeners to subscribe
Once you feel you are gaining some ground with your audience, or even before that, when you are first starting with your podcast episodes, you can simply ask those listening to subscribe to your podcast. If you have submitted your podcast over multiple directories, they can subscribe on whatever platform they are listening on.
Asking for your listeners to subscribe is a simple way to help promote your podcast, and you can do this on every episode you launch. In addition, it gives your listeners easy access to automatically download new episodes, notifying them when they are published.
Collaborate and work with other podcasters
Chances are, you are not the only one with a podcast in your specific niche or business. There are so many podcasts out there you are bound to find one similar to what you have going. If you can connect with other podcasters in your same industry and develop good relationships, you might be able to swap tactics on growth and content. 
Another reason to collaborate with other podcasters in your realm is to bring one or two on your show or have them bring you on theirs. Interviewing other podcasters opens you up to their subscribers, and you can help build each other's audience by committing to promote one another's shows. It can also be beneficial to trade promotion favors, so you can agree to promote the other's podcast for a set period.
Create some Giveaways
People love to win things. This promotional tactic can require quite a bit of upfront investment and time, but it is well worth the boost in subscribers and listeners that you can acquire. If you can find things for free that correlate with your niche or give away podcast-related merchandise in a giveaway, you can significantly grow and establish your fanbase. 
For example, you can encourage those listening to spread the word about your podcast across their social media channels and grant whoever brings in the most friends to subscribe with some free merchandise. It is an excellent way to promote your show while establishing loyalty from those who follow your podcast from the beginning.
Sound, Seo & Content Development
Creating quality content should be a priority within your podcast to know you are promoting and marketing something great. If you have the budget, you should opt for professional mixing and mastering of your audio to make it more high-quality, which will be another factor in making your content stand out above the rest. If you are creating your podcast with an in-home studio, be sure that you research the best equipment and software that will help make sure your audio has the proper quality and sound. Otherwise, you can simply lose listeners by not having decent audio.
You must have a deep knowledge base of the subject you are speaking on, so ensure that the content you provide comes from quality resources unless you only want to showcase your opinion. Your show notes also need to contain proper SEO keywords and phrases that will aid in the further promotion of your podcast, making it easily searchable, recognizable, as well as unique. 
For example, as an independent musician, you don't simply want to have a #music hashtag or your band name in your SEO. You should also include unique hashtags and keywords that correlate to your musical genre, specific inside jokes with fans you have used in the past, or even names of songs discussed in the episode. 
Think about creating a catchy title for your podcast that will attract your target audience, so you can entice more people to tune in. Adding summaries and identification tag words on your mp3s is another way to include SEO-friendly content. Transcribing your episodes and posting them on your website or blog will help you rank with niche-related keywords more easily. 
An excellent example of this is recording your sessions live and upload them on a YouTube channel. Then, you can optimize your channel and develop more subscribers there and on your podcast with cross-promotion. Just ensure that you also invest in a shortener for YouTube links to track and monetize easily.
Be Passionate in your discussions
It helps if you love the topic you're speaking about because it demonstrates how much you genuinely care about something will is another way to help grow loyal subscribers to your podcast. Your podcast needs to be good, yes, and contain quality content, but if you don't have passion or ambition for what you are sharing, your listeners will know this and grow bored with what you are offering. Most people find more value when they sense that someone feels strongly about a topic. 
Promoting is about marketing, yes, but you also need to have a solid knowledge base with your subject so that you can access, educate or share on the given topics for each show. It also doesn't hurt to be relatable and admit when you may not know enough about something, such as during an interview. We are human, and people will appreciate the honesty you bring out if you admit to not knowing something just as easily as if you can.
Create an email list and Website / Blog
Just like having a YouTube channel and social media platforms to promote your podcast, you should also consider obtaining a website and developing an email list. You can easily make an essential website for free or for a small fee, or you can start a blog as your website. The benefits that having a website or a blog will do for your podcast promotion include:
Bigger Audience

- There is not always going to be overlap between your listeners and those who go to your website or read your blog, so you can reach a whole new area of people by publishing in both locations. 

SEO

- going back to the importance of having those keywords and searchable phrases, videos on YouTube and blogs are still going to pop up with those words on Google before your podcast does, so having either platform will help market your podcast.

Sharing

- It is easier to share links to blogs, websites, and videos than it is to share podcasts, so having the ease of share-ability will go a long way in your promotion.
Having an email list is also an excellent way to build hype around upcoming podcast episodes, new giveaways, launches of new products or services related to your business, and more.
Paid Advertisements
Paid advertisements can be a great promotion tactic if you have the budget to utilize a paid advertising channel. Facebook, for instance, allows you to target people by their types of mobile devices, such as those using iOS for Apple Podcasts and Android users for Google Podcasts. Using paid ads across social media channels, you can target specific demographics of people for your show. 
It helps if you know what people's interests, hobbies, etc., will find your podcast most attractive so that you can effectively target ads to those groups. There are always people looking for podcasts, so if you can utilize tools to identify the types of searches they are conducting, you can hone in and gain their attention with a specific ad.
Be Active and be engaging
One last promotional tactic you should be using with your podcast is to be active and be engaging. Use your other social channels, website, blog, email list, and so on to continually promote, yes - but you should also be engaging new followings across different areas of the online world. 
What does this mean, exactly? 
A great example would be joining a Facebook group centered around your brand or niche. Then, you can post random questions to gain knowledge about what to feed your listeners and create more of an online presence across other channels as well. 
On the other side, being engaging means having a call to action when you post on your own social channels, such as having listeners subscribe, share your posts, videos, or episodes, or tagging friends that have similar interests so that they are brought to your feed. Providing feedback on comments, either when someone poses a question (if you can refer them to a specific podcast episode for the answer - score!), or just replying when they give you kudos, can also go a long way in growing your podcast. It again allows people to feel heard and acknowledged and can help you develop loyalty and lasting subscribers.
Be Strategic and creative in your podcast promotion
You should consistently be strategic in the promotion and marketing of your podcast. Keep yourself updated on the latest trends and tools that are being utilized so that you can develop and benefit from unique creative marketing and promotional ideas. 
Don't be afraid to step outside of the box, either. For example, you can reach out to big names within your niche if you want to interview them on your podcast and see if they will, in turn, promote your podcast across their network.
Much of your success with your podcast depends on your willingness to keep trying and find what techniques yield the best and most successful results. Research and analyze what episodes gained the most traction, what videos from your podcast on your YouTube are being viewed more, and how many clicks your email links are receiving. Constant monitoring and tweaking can only help you to establish more tried-and-true methods to promote your podcast in the most effective way.
Author: Melissa Waltz