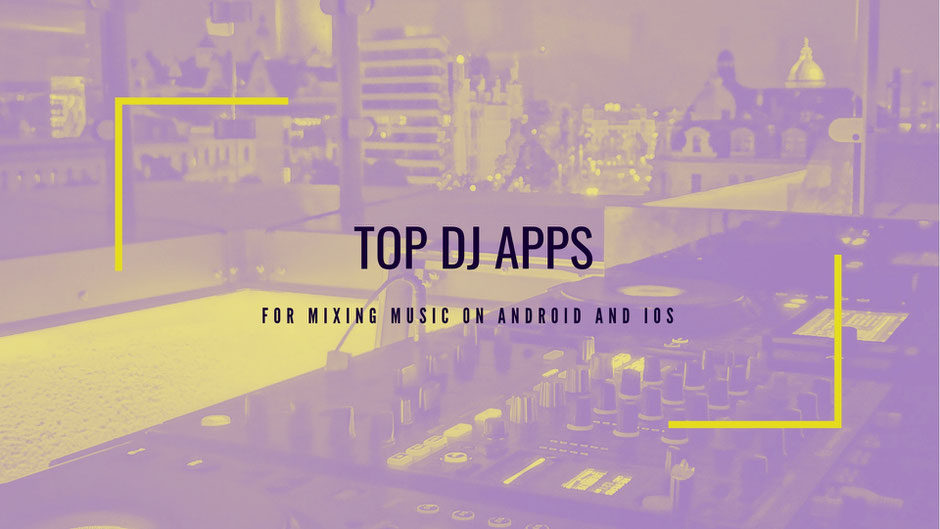 Find Song Mixer for Mix Music Online and DJ Apps 2019:
Meanwhile there are some DJ Apps for IOS, Iphone and android on the market. Even though I personally prefer CDJS for DJing, some song mixer apps are certainly adequate for beginners. The future for DJs could be streaming songs from Spotify, Apple Music and Beatport in combination with DJ Apps and DJ Software
Learn more about the advantages and disadvantages of DJ software currently available on the market.
DJ Apps 2019 for Iphone and Android
WeDJ by Pioneer
Is streaming the future for DJs?  WEDJ by Pioneer is the first DJ App with Beatport Link integration. The new subscription service from the biggest club music download store Beatport, with which you can play their entire music catalog. WeDj also has a Soundcloud integration for mixing their songs.
Try WeDJ for Iphone or Android
Serato Pyro
The Pyro App is the little brother of Serato. With this IOS DJ Mix app your favourite songs are automatically mixed together and adjusted by the tempo. The whole thing happens in combination with Spotify. So you can choose from millions of songs and have a huge choice. Conclusion: Perfect if you don't want to run out of music at a party and want tracks to be mixed automatically.
Chech Seratos Song Mixer App now
Edjing
Edjing is perfect for mixing your own MP3s, Soundcloud and Deezer songs on the go. Your tracks are also analyzed by the tempo and can be mixed with a 3 band equalizer. The Dj App for IOS and Android also has a recording function. Conclusion: The DJ Mixer App is a great option to get started as a DJ.
Algoriddim Djay
Djay 2 is a DJ mix app for Android, IOS, Mac and the Windows PC, and features Spotify integration. You can also set cue points and loops, and use the auto play function with tempo adjustment. The program also includes an auto play function with tempo adjustment. You can also mix up to 4 songs simultaneously. Conclusion: Useable for mobile use and for beginners as a DJ. The pro version is aimed at DJs for professional use.
Mixxx
Mixx is an open source DJ mixer app for Windows, Mac and Linux. You can mix your songs with tempo faders, equalizers, effects and filters. There's also BPM and key recognition for your songs. You can also use a midi controller of your choice to control the program.  Conclusion: a program with potential and some interesting features. Also available as a free download
You.DJ
With You.DJ you already have more possibilities to mix your tracks. This DJ Mixer APP is available as web app, desktop version and also for IOS. You can mix your tracks with an equalizer, a filter and different effects. You can also access Youtube and Soundcloud songs. Or play music directly from your hard drive. Conclusion: The DJ App from You.DJ has potential, but is not yet fully perfected. There are still much better alternatives.
Youtube DJ
Youtube DJ is a simple but free Web App to mix your Youtube Music Playlists. It's not easy to beatmatch Songs, because you only have 6 different tempo adjustment options. The DJ Mixer app is not comparable to professional DJ apps, because there are far too few adjustment possibilities. Conclusion: rather an app to play around with, at a homeparty.