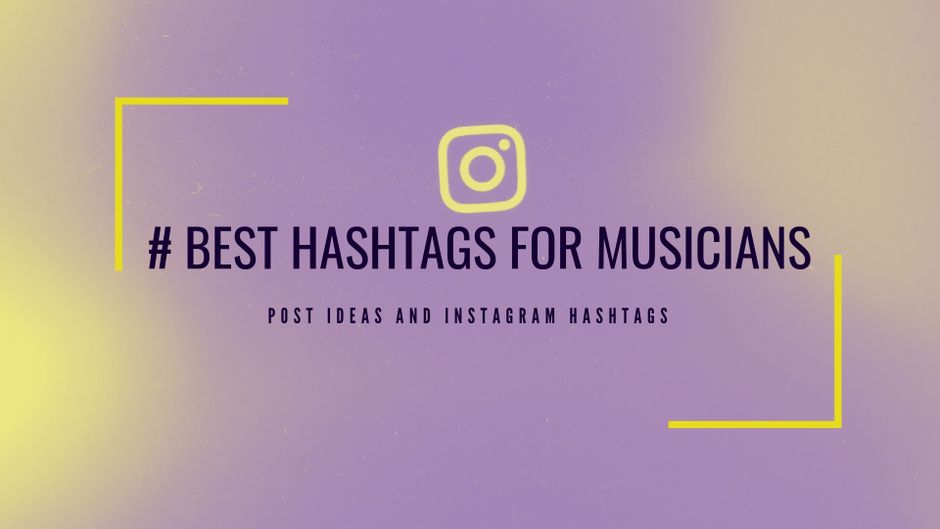 Best Music Hashtags on Instagram: DJs & Producer 2022
Find the best Hashtags for Music on Instagram and TikTok 2022. Let your posts perform through the optimal reels hashtags
I think Instagram is the most important social media platform for creative people. In percentage terms, Instagram is the most popular social media platform for producers, artists, musicians, and DJs. For the simple reason that it's all about visual media, which is perfect for creative minds. 
Find the best new Hashtags for promoting your Music as a Singer, Dj, Producer, or music lover on Social media. Here you get some valuable information to find the best Music Hashtags for Instagram, TikTok, Facebook, Youtube, and Soundcloud to be heard. Generate top reels Hashtags to reach more followers and fans. You also find Content Ideas & Instagram post suggestions for Musicians. Also, a summary of the best Instagram photo editing apps and Hashtags generators. Learn more...
Best Instagram 

Hashtags for Music
optimized for Instagram reels
Instagram 

Content Ideas for Musicians

Instagram 

Profile Tips

Best 

Time to post

 on Instagram

Top Instagram 

Photo Editing Apps

Best 

Video Editing Apps

Instagram 

Hashtag Generator

 Apps
Click and Play: A Spotify Playlist with Mixed or Mastered Songs by Mastrng.com
Improve the Sound of your Music Production.
Free Mastering Sample?
Get your Test Mastering now. Because your music deserves brilliant & powerful sound.
As a mastering and mixing engineer for electronic Music and Hip Hop, I want your Music to be successful and your songs to be heard as often as possible. With so many musicians, it is essential to promote your songs in the best possible way.
It very essential is that you continuously communicate with your fans and followers. If you publish your Music yourself and don't have a big label working for you in the background, you have to draw attention.
According to the statistics of some marketing experts, it takes between 5 and 7 contacts with your listeners until you win new fans as a musician or DJ. Your artist's name must be noticed; that is the most important thing. You should post 3 to 5 times a week on social media, so you don't get lost in the crowd. If possible, even daily! If you decide to use social media, spread content consistently and regularly. Or be satisfied that only your friends and acquaintances listen to your Music. You can decide for yourself. 
However, don't just worry about your social media appearance, much more important to dedicate yourself to your Music and be creative. Set the goal to use 30 to 60 minutes a day for social media and not more. Instead of checking your likes every 2 minutes, do something constructive! 
If you, as an artist, do not only attract online audiences, you have a significant advantage. Are you regularly active with your band at concerts, or do you usually play in clubs as a DJ or music producer? Online contacts with your fans are very desirable. However, even more, important would be if your Music is listened to at concerts or through personal connections.
The probability of success is higher if you regularly get heard within a short period. Contacts with fans include being listened to in a club or concert, listening, liking, and sharing your song on Spotify or Soundcloud.
Or your contributions being seen on social networks like Instagram or Facebook.
So don't lose courage, make Music regularly, have fun, and be successful! Also online.
---
1. Top Music Hashtags 2022 - Most Popular
To get the most out of your TikTok and Instagram Hashtags, add them to your post immediately, not minutes later. If your posts' quality is right and you post your content, not only when everyone is asleep or working, you will quickly notice success. Try the following top hashtags on your next Instagram music post. Soon you will achieve over 100 likes and can spread your Music to all countries.
Here are some of the best Hashtag ideas for Music: you can also use this hashtags for Instagram reels, Twitter, Youtube, Tumblr or Pinterest.
#audiogearz
#musicproducers
#musicproduction
#producerlife
#producerlifestyle
#studioporn
#homestudio 
#studiosetup 
#protools 
#ableton
#flstudio 
#recordingstudio
#recordingengineer
#mastering 
#studios
#bedroomproducer 
#studioflow 
#audioengineer
#beatmaker 
#beatmakers 
#inthestudio
#studiolife  
#homerecording
#composer
#sounddesign
#Producers 
#beats 
#beatmakers  
#Producing 
#Beat
#memes
#Musicfestival
#vst
#plugin
#vstplugin
#musicmakers
#beats 
#mixing
#reverb 
#uad 
#wavesaudio
#soundtoys
#gearporn 
#gearslutz
#proaudio
#audio
#studioporn 
#music 
#musiclife 
#mixingengineer 
#musician
#mixengineer
#musicproducer 
#mixing
#artist
#studio
#producer
#recording
#singersongwriter
#songwriter
#band
#bands
#underground
#electronicmusic 
#music 
#musicislife 
#picoftheday 
#studiotips 
#mixingtips 
#onlinemixingandmastering
#onlinemixing
#musicmarketing 
#instagrammarketing
#musicproducer
#singer
#hiphop
#musicmotivation
#motivation 
#ProducerLife
#TrapBeats 
#FLstudiogang 
#Producer 
#MusicProducer
#producerpush 
#protools 
#logicpro
*Your Instagram Hashtag generator
Best DJ Hashtags
#clubbing
#clubmusic
#clubnight
#party
#dj 
#djlife 
#livemusic
#djs
#djane
#djing
#djculture
#djstuff
#deejay
#clubdj
#pioneer
#cdjs
#rekordbox
#traktor
#serato
#technics
#discjockey
Top Techno Hashtags
#technolove
#techno
#technolover
#technolovers
#technoculture
#technofamily
#technoexperience
#technomusic
#technojunkie
#technoislove
#lovetechno
#technominimal
#undergroundtechno 
#technolovers 
#technoislife
#detroittechno
#technodj
#industrialtechno
#minimaltechno
#technoproducer
#ilovetchno
#darktechno
#acidtechno
#melodictechno
#deeptechno
#hardtechno
How many Hashtags to use on Instagram ?
The current maximum for Hashtags on Instagram is 30. But how many Hashtags should you add on Instagram to see the best results? Tests have shown that between 7 and 15 hashtags achieve the best results. So your post is not perceived as spam. Try to use only hashtags that match your post content.
The best mix is between hashtags with a high number of posts and hashtags with less competition. You can also try to post the remaining number of hashtags as a comment one day later.
2. Best TikTok & Instagram Reels Content ideas for musicians
What to post on Instagram? Get post ideas for your Instagram account; this works for creative people and artists.
Try to establish direct and personal contact that has more value for others. Search your theme and be entertaining, educating, or documenting. Don't just talk about yourself; try to be responsive to your fans and followers. You can also ask what content your fans want more. Here are some content ideas for your Instagram, Facebook, or Youtube Channel.
Audio recordings

Video recordings (Concerts, Podcasts, DJ Sets)

Tutorials in which you explain music topics

Post your Studio or recording Environment

Tour or concert announcements

Share exclusive Music before the release date

Memes - yes I mean these pictures with funny quotes

Personal contributions and recommendations

Helpful quotes for other musicians and artists or fans

Music Gear Reviews

All other topics you can entertain or help followers with
Try which Instagram and TikTok Content works for you and what doesn't. Compare the results, learn, and get better!
Soon you will have more followers and a more excellent range. With good content, you will quickly generate your first 100 likes.
3. Best Instagram Profile Tips
Here are some of the best Instagram profile tips to get the most out of your profile page.
Here are some of the best Instagram profile tips to get the most out of your profile page.

Use a profile photo that stands out. Use a logo with recognizable value or try to use intense colors

Communicate with your followers: participate and use the comment function

Because you can only add a clickable link to your Instagram profile, use a link service like LinkTree, Campsite.bio, or contactinbio. 

This can refer to all your streaming providers, websites, or social media channels.

Change your Instagram profile to a 

Business or Creator profile

 so you have more insight into statistics. With these, you can get a better overview of the success of your photo contributions and followers.

Upload as 

many Instagram

 Stories as possible to increase Engagement and focus on users who don't scroll through their whole feed.

Create highlights

 of your Instagram Stories to refer to essential posts

You should use the 

Spotify

 share option for 

your Instagram Stories as a Musician.

 Open your song in the Spotify app. Then click on the 3 points in the upper right corner. Next, select Share and like Add to Instagram Stories. Now your song can be linked to Spotify directly from your Instagram Story.

Mention other Instagram users

 you collaborate with: you can do this with Instagram Stories and regular posts.

Post 

personal

 and realistic content to connect with your followers

Use 

high-quality pictures and videos

 - bright colors with a good contrast perform best.

Think about creating 

live video content:

 Instagram promotes this type of content even more, and you should get more views than usual.

If you upload Videos, try to produce Instagram Reels

.

 Instagram will push these Videos a lot. 

Another advantage, with IGTV, you can also 

embed Links

. This, as you know, is not possible with standard Instagram profiles.

Use a mix of trendy hashtags and less popular hashtags. So it's more likely that your content will be ranked among 

the top hashtags

.

If you get a comment on Instagram, 

reply with an explanation

. This way, your post automatically gets more Engagement and is rated better by the internal algorithm.
4. Best Time to post on Instagram
You may wonder when the Best Time to post Instagram content is? Of course, you must consider which country your posts should be optimized in. Whether for the time zones in America, Europe, or the Asian market in India, China, or Australia. According to various statistics, Instagram Content interacts very well in the morning. 7 am to 10 am: Shortly after people get up or are on their way to work, it's usually Time to take up their mobile phone. At lunchtime, on the other hand, not so many interactions take place. From late afternoon/evening, around 4 pm, most people have more time to look at Instagram again. So you already have an overview of when it might be most rewarding to do Instagram marketing.
One of the most successful weekdays on which your Instagram post has the best reach: is Tuesday, Wednesday, and Thursday. Less frequented days are Monday and Sunday. Average engagement rates for likes and comments are expected on Friday and Saturday.
However, it is still best to test which days and times work best for your Instagram target group. Find out when they are most likely to be online and not overlook your posts.
5. Best Photo Editing Apps Instagram
Geulgram (Android)
PicMonkey
Pixlr (Desktop,
Snapseed (IOS, Android)
6. Best Video Editing Apps
To edit your Instagram Videos or to add Music to your clips. Try one of the following Video editing apps:
Videoshop
Lomotif
Vigo Video
Quick by GoPro
wave.video
unfold - create stories
headliner
openshot
7. TikTok and Instagram Hashtag Generator Apps
Find Hashtag examples with the following Instagram Hashtag Generator Apps for Android and IOS