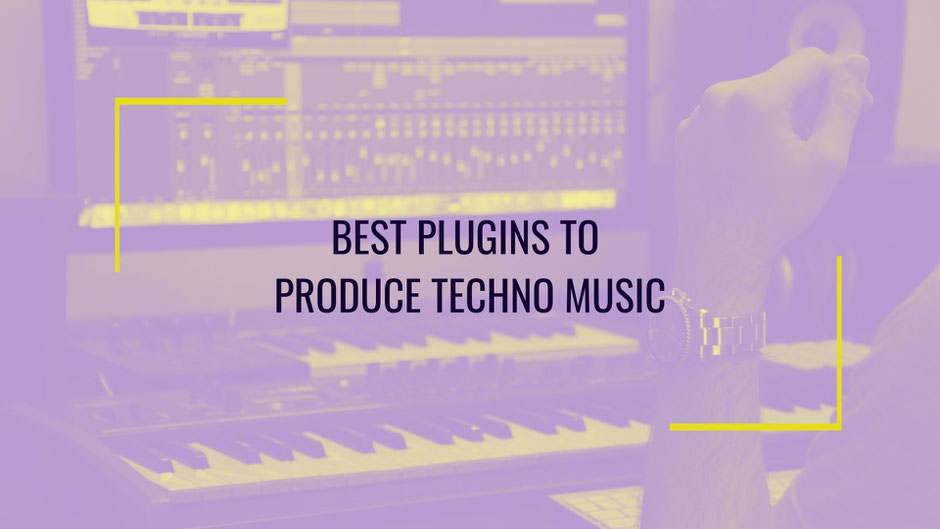 Learn more about the best electronic music and Techno Plugins: 
Today's technology allows us to create EDM and Techno tracks from start to finish in our homes. You just need a laptop and a couple of plugins. Fortunately, there are hundreds of VST plugins to create electronic music tracks.
In order to create a song, you need three main types of plugins: instrument plugins, effect plugins, and mixing and mastering plugins.
In this post, you will find the best VST plugins that will help you to create electronic music tracks in your recording studio.
Best Instrument Plugins
Instrument plugins allow us to record any type of instrument even if you don't know how to play them. They sound very real and have great features. For convenience, it's recommended to have some kind of MIDI controller to play and record virtual instruments in your DAW.
Xfer Serum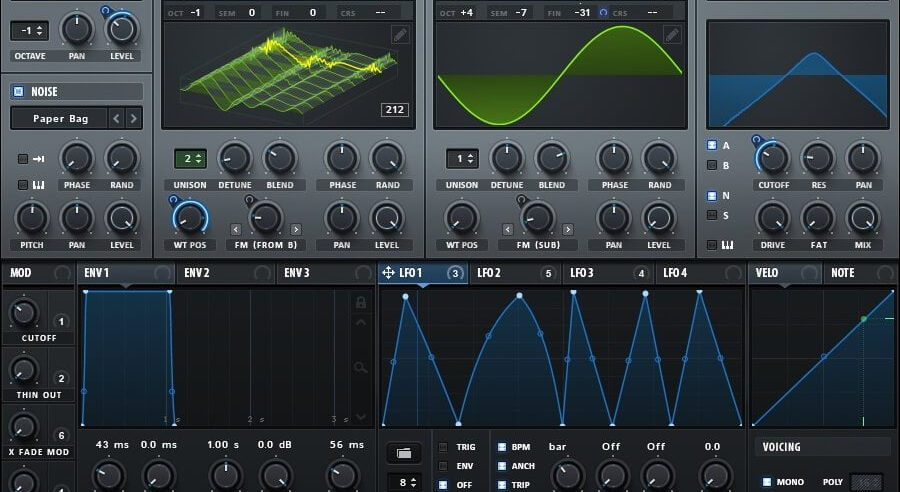 Xfer Serum is a modern approach to synthesizers. This is one of the best synthesizer plugins you can find. It offers an amazing interface and almost unlimited features. And any electronic music musician needs a good synthesizer to create tracks.
This Xfer Serum synthesizer offers all the features you need. It has sections for noise, oscillators, filters, velocity controls, voicing, and more. You can add different effects such as modulation and control different FX settings.
It includes effects such as flanger, phaser, distortion, EQ, and more. In a nutshell, this is a fully-featured synthesizer plugin to create high-quality Techno tracks. Also, you can import your tracks and create custom wavetables.
Xfer works with Windows and Mac. Comes with 400+ presets, and 140+ wavetables and supports VST, AU, and AAX formats.
Features:
Ultra Clean Oscillators
Editable Modulation
Built-in Effects
Wavetable Manipulation
Bass Master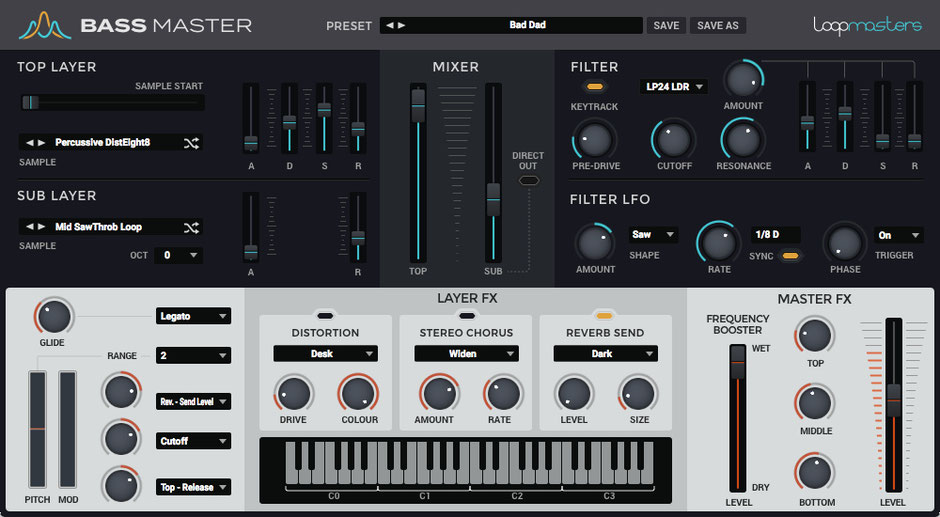 We all know how important bass is for electronic Music. And Bass Master VST plugins are the best choice when it comes to bass plugins for Techno & House Music. It's a synthesizer plugin dedicated to bass. Offers really great sound and awesome features. You can create awesome and very custom bass tones with this plugin.
First of all, this plugin has one of the most beautiful and modern interfaces. It makes the working process very easy and fast. Secondly, it offers so many features that you can create any type of bass tone you wish.
The interface is divided into sections. The top of the interface includes sample, mixer, and filter sections. You can control settings such as resonance, cut-off, LFO amount, phase, and more.
On the bottom side, you have an FX section where you can add distortion, reverb, or chorus to your bass track. Additionally, you can control glide, pitch, modulation, and more.
Bass Master is a go-to VST plugin for EDM musicians who want to create high-quality and deep bass sounds.
Features:
300+ Presets
13 Filter Types
Frequency Booster
Amazing Sound
Eden 2
EDEN 2 by Ujam is one of the best drum plugins for EDM music. A plugin with a modern interface, very high-quality sound, and features. It's a popular drum plugin for dance music.
The interface is very simple. You have a section for a drum kit and mix, where you can choose the drum kit of your choice and control the amount and intensity.
You can control the settings of individual instruments such as kick and snare. It allows you to control four settings: volume, decay, pitch, and filter. This gives you more power to create custom drum sounds.
Also, EDEN 2 offers a pattern feature where you can create different song sections and drag and drop them in your DAW. This makes creating drum tracks very easy.
Whether you own a professional recording studio or record music at home, you need to use EDEN 2. It's an awesome and feature-packed drum plugin for dance music.
Features:
Dynamic Side-chain Compression
Awesome Presets
12 Drum Kits
Spitfire Labs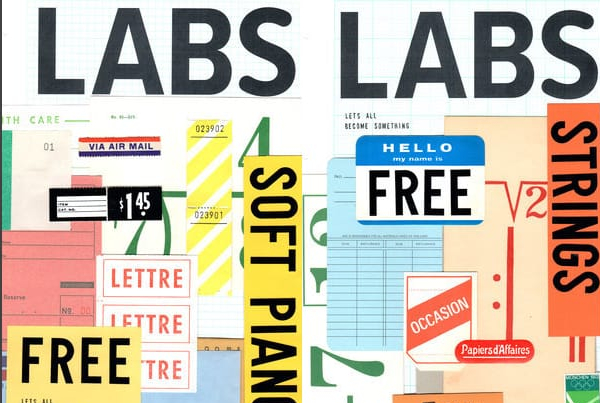 Spitfire Labs perhaps is the most useful and awesome tool for music recording. This is a collection of very high-quality virtual instruments. And it's totally free. You can create a whole song with just this plugin.
This plugin has a huge collection of different virtual instruments. It includes pianos, strings, drums, synths, woodwinds, guitars, and many others. All instruments sound great and natural.
The interface is very simple and minimalistic. However, you have all the features you need to record high-quality instrument sounds.
Spitfire Audio offers premium plugins too but a free collection is quite enough for most home recording engineers. So, grab it now and see the power yourself.
Features:
Huge Instrument Collection
High-quality Sound
Easy to use
Totally Free
Battery 4
Battery 4 may not need an introduction. Perhaps it's the most popular and well-known drum VST plugin among recording engineers. This plugin has one of the biggest drum collections in the world. And it's especially great for Techno and House productions.
You can do anything with this plugin. Comes with huge drum kit collections. It includes acoustic and electronic drum kits, samples, and more. You can use any kit or assemble a custom one.
Other than drum kits and samples, Battery 4 has unlimited options for customization. You can manipulate volume, pitch, velocity, compression, and much more.
Additionally, you can tweak EQ, add saturation to tracks, and create really custom drum samples or kits.
Features:
A Huge Drum Collection
Very Customizable
Many Control options
Very High-Quality Sound
Playbeat3
PlayBeat 3 is a modern approach to groove machines. And this type of plugin is very handy when you create tracks in the electronic music genre. With it, you can create diverse and unique grooves thanks to its algorithm.
It has a very powerful sequencer. You can use eight independent sequencers and combine pitch-shifting, volume, pan, and more. Also, you can import an audio file and edit them, feeding any instrument, plugin, or synth.
Playbeat 3 is a great tool for remixing and editing. You have almost unlimited options. Also, the interface is so beautiful that you will fall in love immediately.
Has features for sample management, comes with presets, and you can create your own packs too. Playbeat is the future of groove machines.
Features;
Random Pattern Generator
8 Sequencers
Remix Algorithms
Best Effects Plugins
Although instrument plugins are critical for creating tracks, you need effects plugins to add depth and excitement to your tracks. And you need to have great sounding effects plugins with features.
Valhalla Vintage Verb

Valhalla VintageVerb is perhaps the most powerful reverb VST plugin. The sound quality and features are almost unbeatable. Also, it's a very easy-to-use plugin with a minimalistic interface.
First of all, the interface is very simple and intuitive. You have everything you need in front of you. And it's divided into sections which makes it easy to work with this plugin.
As features go, it's packed with them. You can choose between 15+ reverb modes which include a concert hall, plate, room, ambiance, and more. Then you can add color by choosing different styles such as the '70s, '80s, and now.
You have options to tweak pre-delay, mix, decay, damping, and shape. Also, you are able to add modulation, change EQ settings, and much more.
VintageVerb by Valhalla is one of the best reverb plugins. And it can be used for any music genre whether it's techno or house music.
Features:
15+ Reverb Modes
Different Era Reverb Emulation
Modulation & EQ Options
Fabfilter Timeless 3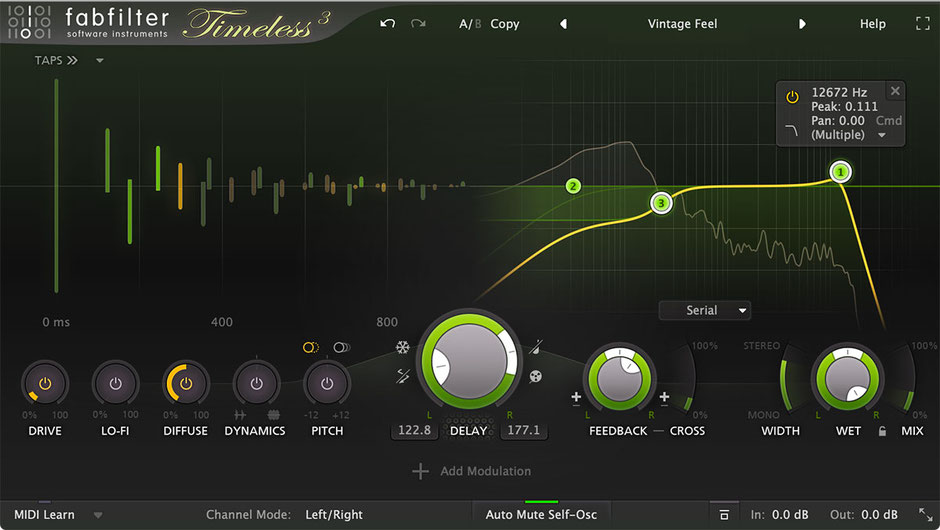 Like reverb, the delay is one of the must-have effects plugin. And for that FabFilter Timeless 3 is the best option. It offers great sound and features you can't find in many other delay plugins.
If you have ever used any plugin from FabFilter then it will be easy to use the plugin. It has a simple yet modern interface with really cool features.
You are able to manipulate any delay settings in-depth. Timeless 3 has options for the delay, feedback, pitch, dynamics, and more. Also, you can mix wet and dry sounds.
Also, you are able to add drive and lo-fi sound. But one of the best features is the EQ. This allows you to adjust the EQ of the delay and make it better.
Additionally, this delays VST plugin comes with presets that are the great starting points. Or you can add fully custom delay to your tracks.
Features:
Vintage FIlters
Creative Effects
EQ Manipulation
Trem Controll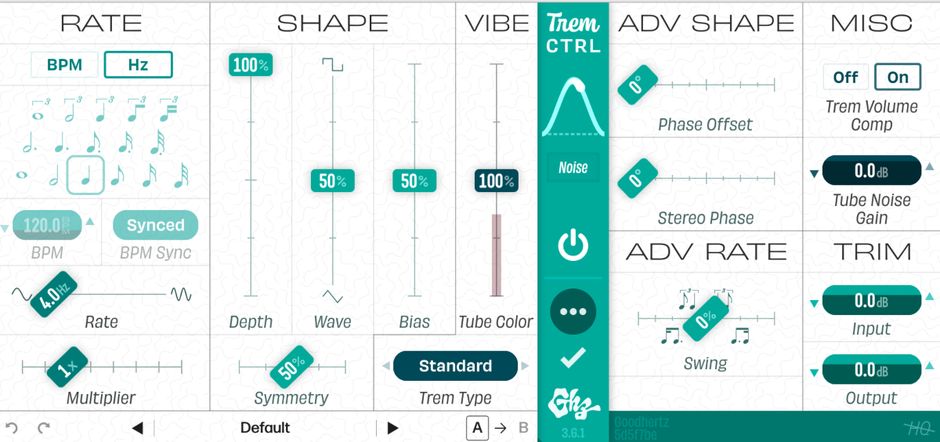 Trem Control is one of the best and most beautiful tremolo VST plugins. Has a very intuitive and modern interface that makes the working process fast and easy. This plugin is not only for EDM but other music genres too.
It is divided into five sections and each section is dedicated to different settings. The first section is for rate, then shape and vibe, ADV shape, and misc. Each setting has dedicated controls.
You are able to control BPM and Hz rate. With the sliders, you can control the depth, wave, and bias of the tremolo effect. And vibe allows you to add tube sound to your effect which is a great feature.
It also has some other features but it's not a good plugin only for that. This plugin has great sound. Your mixes will sound very natural and organic when you add Trem Control.
Features:
Comes with Presets
Tube Color Option
In-Depth Customization
D16 Group Antresol

D16 Group Antresol is a high-quality and professional flanger plugin. It allows you to create very custom flanger settings and apply them to your tracks. Flanger is a distinct sounding effect that is very handy in any genre of music.
The plugin's interface looks like an analog gear and it has great features. Also, it comes with presets you can start with. Or you can create custom settings.
The Antresol allows you to control the offset, rate, and depth of both channels separately. And feedback too. Its stereo capabilities are awesome.
Although it's an advanced flanger plugin it's very easy to use. This plugin is great for professional studios and home studios too.
Features:
Classic Flanger Sound
Analog Stereo Flanger
Phase Shift
High-Pass Filter
Best Mixing and Mastering Plugins
A song can't be completed without mixing and mastering. So, when you record your Techno and House tracks then you need to mix and master them. And for that, you need high-quality mixing and mastering VST plugins. 
Waves F6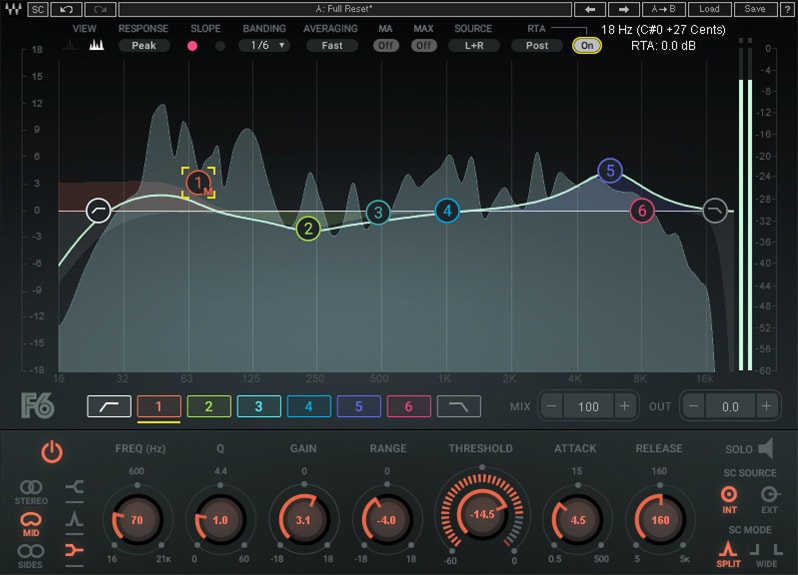 EQ is the most powerful tool when it comes to mixing. And a great EQ plugin for electronic music is Waves F6 which is a dynamic EQ. It gives more capabilities than the standard EQ plugin.
Waves F6 is a 6-band EQ with additional HPF and LPF bands. This allows you to do in-depth EQ tweaking. It has controls for Q, gain, range, and other EQ settings.
A great feature is that it's a dynamic EQ and also, it has a built-in compression that allows you to do more things. And all these features make Waves F6 a professional and go-to plugin when it comes to EQ.
Features:
Dynamic EQ
Compression Option
6 Floating EQ bands
Separate HPF and LPF
Tube-Tech CL1B
The next most important tool after EQ is a compressor. And the best compressor is Tube-Tech CL1B Especially if you like analog sound. The features and sound of this plugin are amazing and work with any instrument or music genre.
It emulates a classic analog compressor and it does a great job. The sound is very organic and real and can bring up all the goodies of any track.
Has all the knobs that are required for the compressor like ratio, threshold, attack, release, and more. Has side-chain and parallel compression options too.
With a nice VU meter, you can control the amount of compression. If you want to add an analog sound to your digital tracks CL1B is the best plugin for the job.
Features:
Real Analog Sound
VU Meter
Manual and Fixed Attack/Release Control
Side-Chain Option
Parallel Compression Feature
Klevgrand FreeAmp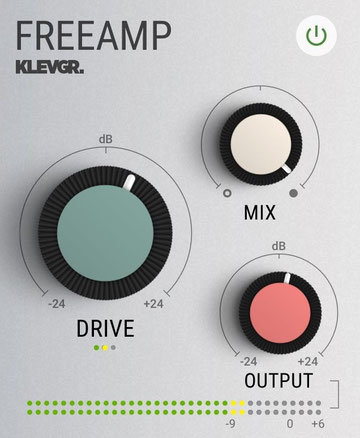 Klevgrand FreeAmp is a free saturation plugin with simple yet powerful options. This 3-knob plugin can add power to your tracks and make them more awesome.
The drive knob controls the amount of saturation, the output controls the volume of the output signal and the mix controls the dry and wet signal. It's that simple. Saturation doesn't need to be complicated and Klevgrand does it great.
It combines tape and tube saturation together and offers a very rich and diverse sound. The sound quality is just superb. And the greatest thing is that it's totally free.
Features:
Analog Sound
Tube and Tape Saturation
Free
FabFilter Pro-L 2
The last step in song creation is mastering. And the tool you need for that is a limiter. The best limiter plugin on the market today is FabFilter Pro-L 2 which offers all the settings you need to create great-sounding songs.
First of all, Pro-L 2 sounds great and doesn't add any digital footprints to your tracks. Secondly, the features this plugin offers are just amazing. And also, it's very simple to use.
You choose between different types of limiters, control threshold, gain, and more. You can engage in solo mode and listen to only the effect the limiter has.
But the best feature of Pro-L 2 is the built-in LUFS option. This makes it easier to export tracks for different music streaming platforms. Not many limiter plugins offer this feature.
Other features include dither, oversampling, true peaks, and much more.
Features:
Built-in LUFS
Different Limiter Types
Clean Sound
Solo Mode
Conclusion
Recording and mixing Electronic Music music at your home is really easy if you have the right plugins. These instrument, effects, and mixing VST plugins are very high quality and offer various features that will make the recording and mixing process easier. And if you want to produce great-sounding records you need to use professional and high-quality VST plugins like those mentioned in this list.