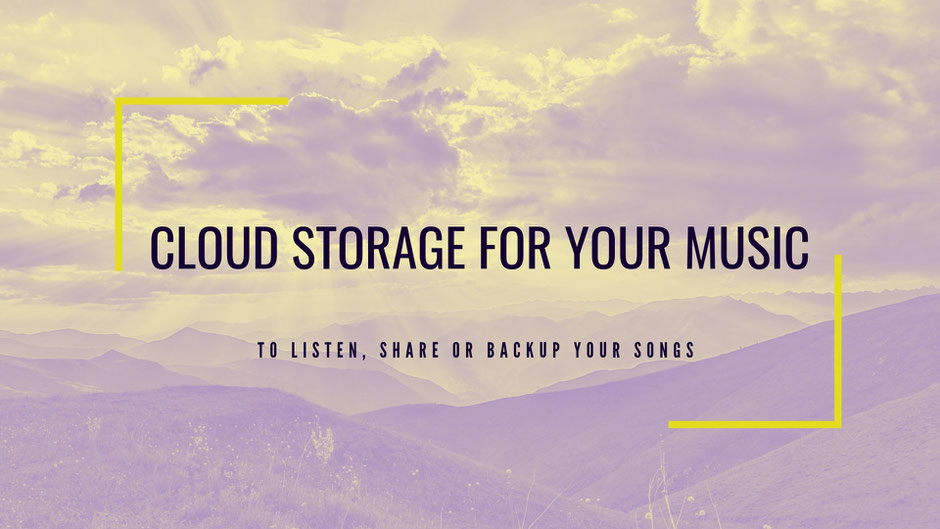 Music Cloud Services
Your Audio File hosting possibilities, to send or upload audio files for free. Check these websites to upload your music, to stream your music or make a file transfer to other People. Find your perfect Cloud Storage Provider to backup your Music.
If you are looking for a way to send and share large audio files privately, there are some excellent free options. Via the providers Fidbak.audio, Swan and Soundcloud  you can upload a limited number of files for free and listen to them via a web player. All 3 Companies offer the service to download the files or send them to other people via a private link.
Wetransfer, Google Drive, PCloud,  Megacloud and Dropbox are other popular providers. However, they are not specialized in audio files. So you can't necessarily play wav or mp3 files through an online streaming player. If you only want to send the files to other people, all 3 are very suitable.
To upload and store your private music catalog Google Play Music is the recommendation. You can upload up to 50.000 Songs and stream your favorite songs on the go.
Use these websites to store your Music on a cloud and to upload your wav, aiff and mp3 files to backup audio files. Alternatively, use this Services to send your Music to friends or when using my mixing and mastering service to make an uncomplicated file transfer.
Audio file hosting
How to send large audio files online for free
How to find your perfect cloud music storage, to backup your songs
Fidbak.audio
Fidbak.audio is a new service to upload your audio files and invite guests for listening and downloading. The nice thing about Fidbak.audio is the integrated audio player. If you upload high-quality audio files, the file can later be played as Mp3 or lossless audio. Similar to Soundcloud, you can comment via time-stamp function. So you can communicate perfectly about the piece of music. Therefore this service is optimal to be used between the participants like songwriter, producer, mixing engineer, mastering engineer, label or can be used as a promotion tool. You can upload up to 4 hours of music for free. Try Fidbak.audio now 
Swan.audio
Upload up to 2Gb of music for free, to share it with your contacts. Your files are available online for 7 days as a download in a web player and will then be deleted.
Soundcloud Free
Free Plan: Upload 3 hours of Music
PCloud
At pCloud you get 20GB of free online cloud space. The good thing is that pCloud specializes in music files and sorts your songs and albums by ID3 tags, artist, album or playlists. You can also share your uploads, or manage them via Android and IOS App.
Wetransfer Free
Wetransfer is designed to upload large files and then send them to your email contacts. The good thing about Wetransfer Free is that you can send files up to 2GB in size without registering. When the file is downloaded you receive a confirmation email.  Your uploaded files will be available for download for 1 week and will be deleted afterward. To upload larger files and bypass the download limit there is also a paid subscription. Visit the Wetransfer website for more information.
Google Drive for Audio Files
Google Drive is a place to store your files online. They offer A Free Plan to upload 15 GB of your Music or other file formats. This Service is perfect for saving your music online on a cloud. You also can use this Service to share large audio Files with other People, by generating a download link or give permission for group processing. Get Google Drive
Dropbox for Music
Dropbox cloud storage allows you to upload and share 2GB of data. When listening to music with Dropbox, it is best to use an app as Dropbox music player.  To make this possible, download apps like cloud beats or cloud player to your Android or IOS device. If you want to share music links, click on the file. Then choose share, create a link and last copy link. Visit the Dropbox website 
Mega Cloud
Mega is the provider that offers the most space for free audio file hosting. Besides, this provider attaches great importance to security and privacy. With the free account, you can upload and manage at least 50Gb of music files. Even if you accidentally overwrite a file, you have a recover function at your disposal. Of course, you can send your songs privately, and via the app you can even access your files on the go. So Mega is worth a try if you try to find a music cloud storage.
Apps to listen to Music Offline
Best listen to music offline apps for Iphone and Android for uploading your existing music collection.
| | | |
| --- | --- | --- |
| App | Android | IOS |
| This App lets you stream Music online by storing your music on free cloud storages like Dropbox, Google Drive and One Drive |   |  Yes |
| Google Play Music lets you upload 50.000 Songs for free. You can listen to your uploaded music online and offline. Download your songs through a web player or by using the mobile app. | Yes | Yes |
|   |   |   |