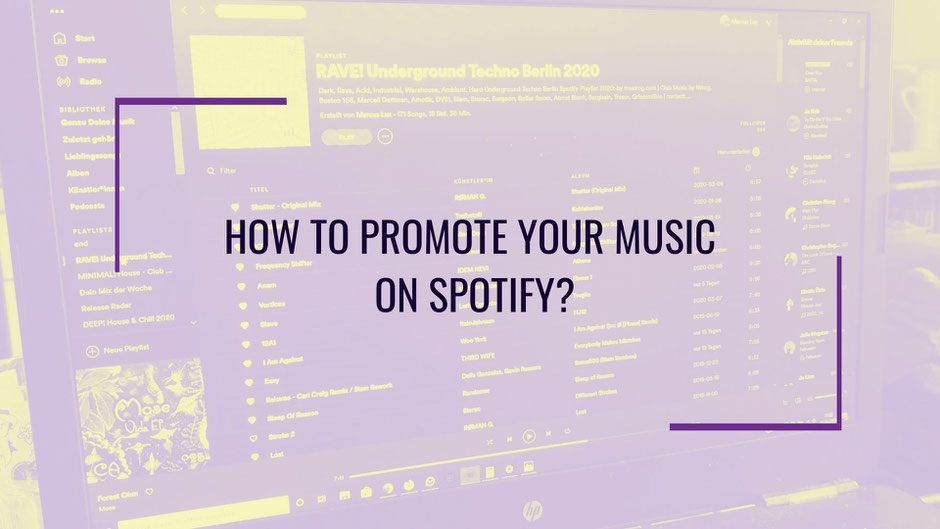 Promote on Spotify organicly
Promoting your music on Spotify organically can help you reach a wider audience, build a dedicated fanbase, track your progress with data and analytics, and establish your brand in the music industry. This can be done by getting your music on popular playlists, engaging with your listeners, and building relationships with playlist curators. By maximizing these efforts, you can take your music career to the next level and gain recognition in the industry.
Every day thousands of new songs are released on Spotify,how do you manage to get Organic spotify promotion or Free Spotify Promotion? Read these real Spotify promotion tips and learn how to get more spotify plays and submit to Playlists. Read more about the best Spotify Promo tactics.
Best Way to Promote your Music on Spotify
In today's music industry, releasing shorter songs that are only 2-3 minutes long has become increasingly advantageous. By doing so, your songs will be listened to more often, quickly skyrocketing your play count and providing an excellent opportunity for organic Spotify promotion.
One of the best ways to take advantage of this opportunity is by using Spotify for Artists. By claiming your artist profile or getting access through a distributor, you will gain access to valuable statistics such as how often your song has been played, how many times it was saved, and which countries and cities your song were listened to. Additionally, you can download the Spotify for Artists app for even more insights and control over your music.
To further enhance your profile, complete your profile information by uploading a current profile photo and adding a bio to tell your story and connect to your audience.
Another key strategy for success on Spotify is to release new music regularly. Whether releasing every 4 to 6 weeks, or every quarter of a year - it's essential to be remembered by your fans. Consistent music publishing is king when it comes to building up a fanbase. You'll start to see positive results if you are consistent, but it also depends on your marketing skills and the quality of your music.
Instead of releasing EPs or albums, consider releasing singles when you upload your music to Spotify. This will give you more opportunities to regularly release new music and find your audience. Additionally, it's important to identify your unique music style so that the Spotify algorithm can find the right listeners for you over time.
One powerful tools is the Artist's Pick feature, which allows you to feature a track, album, or playlist at the top of your profile for two weeks. This can be a great way to draw attention to new releases or promote older material you want to bring back into the spotlight.
Another helpful tool is Spotify Canvas, which allows you to add looping visuals to your songs. By uploading 3-8 second looping videos, you can positively affect shares, playlist ads, and streams. This feature can be accessed through the Spotify for Artists dashboard.
Learn more about Spotify Canvas maker.To gain even more control over your songs' success, consider using Musicstax. This tool provides valuable metrics such as popularity, danceability, energy, positivity, key, and tempo, which can help you analyze your music and your competition.
Finally, remember to list your concerts and DJ gigs through platforms like Ticketmaster, SongKick, Eventbrite or AXXS. This can be done through the Spotify for Artists dashboard and will help your followers stay informed about your upcoming events. By following these tips and utilizing the powerful tools available on Spotify, you can increase your visibility and build a dedicated fanbase.
Spotify Playlist Promotion
Spotify is a popular streaming platform for music, and it offers multiple ways for artists to promote their music and get it in front of more listeners. One way to do this is through the Spotify for Artists platform, which allows artists to pitch their music to official Spotify playlists.
First, log in to Spotify for Artists on your desktop to pitch your music to official Spotify playlists. At the top of the home tab, select "pitch a song" and choose a song. Then, fill out the information about the song, such as the release date, genre, and any relevant information about the song or artist. The more information Spotify gets, the better your chances of being selected.
Another way to get your music on Spotify playlists is to submit it to user-generated playlists. Search popular playlists and try to contact music curators via Facebook, Instagram, LinkedIn, or email. Often, the playlist curators use the same name on Spotify as they do on their social media accounts.
When you send your music to playlist curators, make sure to check if the playlist has real followers. An excellent tool for this 

I

sitagoodplaylist.com

 

, which can help you see if the playlist has real value in promoting your songs.
Once you are featured on a playlist, share it on your social media channels to promote it further. Additionally, there are Spotify promotion services, such as submithub, Groover, Playlist Push, Indiemono, Soundplate, playlist-promotion, OmariMC, Moonstrive Media, Playlist Blaster, that can help you get organic Spotify plays.
You can also use Oktiv.io to find playlist curators in your genre or 

Labelradar

 to send your songs to big labels, allowing you to release your songs on your favorite label and reach a bigger audience. Another option is Fluence.io, where you can get feedback for your music and contact music curators and bloggers to promote your music on Spotify.
It's important to note that buying Spotify plays is not a good idea and could lead to being banned as an artist. Stick to organic promotion methods for the best results.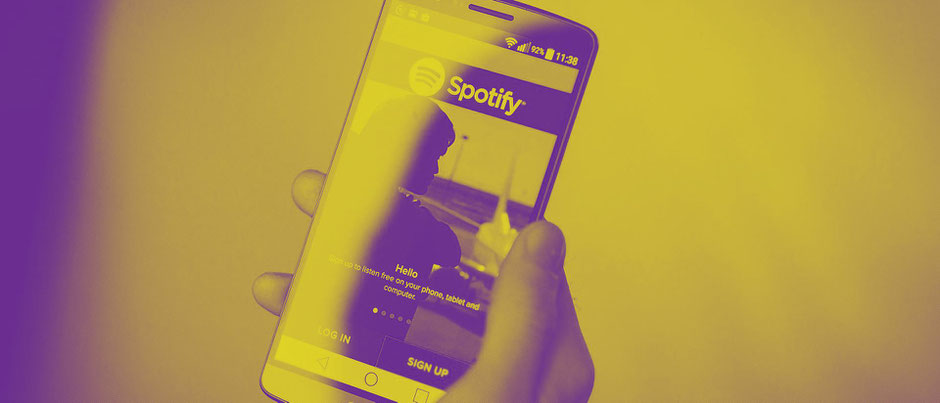 How to Promote a Playlist on Spotify
Creating your own playlists on Spotify is a great way to showcase your sound and support other artists. By curating a playlist, you can target a specific niche or mood and get your music in front of a new audience. Here are some tips on how to create and promote your playlists.
Have a Strong Title: Use keyword optimization (SEO) to make sure your playlist is easily found by potential listeners. Implement the most critical keywords in the title and your playlist description.

Target a Music Niche: Instead of going for a mainstream topic, try to target a specific niche. For example, instead of creating a playlist of the top pop songs, create a playlist of the top indie pop songs. Before making a playlist, search on Spotify to see if the playlist has already been covered.

Create a Mood Playlist: Instead of a genre-based playlist, you can also create a mood-based playlist. For example, you can create a playlist for "chill summer vibes" or "workout motivation."

Curate Short Playlists: Keep your playlists short, with no more than 1-4 songs by an artist. This keeps your playlists fresh and encourages listeners to explore more of your content.

Update your playlists frequently: Keep your playlists fresh and up-to-date by regularly adding new songs and removing old ones.

Play Your Own Playlist: To boost your organic Spotify promotion, make sure to play your own playlist. This way the Spotify algorithm notices that your playlist is being listened to. Which allows your playlist to be ranked higher in the search function.

Promote Unknown Artists: Support unknown artists in your playlists. By promoting unknown artists, you raise the awareness of the emerging artists they love and allow you to get featured on their "discovered on" page.

Contact Artists: Reach out to artists and tell them about your playlist. Artists always want to get their music playlisted, so don't hesitate to reach out. They may share your playlist on their social media.

Promote your Playlists: You can promote your playlists in many places. Some popular options include 

listenspotify.com

,

Spotify Playlists on Reddit

,

, and other social media platforms.

In conclusion, creating and promoting your own playlists on Spotify is a great way to showcase your sound and support other artists. By following these tips, you can create playlists easily found by potential listeners and help raise awareness of emerging artists.
Use Social Media to Promote on Spotify
Promoting your music on Spotify can be challenging, but with the power of social media, you can reach a larger audience and increase your streams. Here are some ways to use social media to promote your Spotify tracks and gain new fans.
Create a YouTube channel: Show off your music production skills by creating explainer videos that teach others about the process of making music. This will help you connect with people interested in your music and win new fans.

Use Instagram Reels or TikTok: Add your music to your short videos and direct your followers to Spotify to listen to the entire song. This is a great way to give people a taste of your music and encourage them to check out more of your tracks.

Create infographics: Use social media to create infographics your followers can use to learn something new. This can be a fun and engaging way to promote your music and connect with your fans.

Find Twitch users who play your music in the background: Reach out to those who play it in the background and ask them to add your tracks to their playlists. This will help you reach a new audience and increase your streams.

Drive traffic to your Spotify tracks: Use social media, your website, Reddit, Quora, etc., to drive traffic to your Spotify tracks. This will help you reach a larger audience and increase your streams.

Ask your fans to follow you on Spotify: Encourage them to follow you on Spotify so your music will appear in their Discover Weekly and Release Radar playlists. This will help you reach a larger audience and increase your streams.
Free Music Promotion tactics
Build your own website and generate traffic to your Music

Build an 

E-mail list

 and send your new Music releases to your Fans

Try to Collaborate with Other Musicians and produce remixes to get more Spotify plays and followers. 

Or ask other music artists to remix your songs, so you can both benefit from the respective follower range on Spotify.
You can also increase your reach by remixing more famous artists. This way, you can gain new listeners even if you probably can't publish the songs on Spotify. To find remix contests visit the following links: Labelradar, Skiomusic, Metapop, Kreasound, findremix

If your fanbase is big enough, try to convince them to buy your Music or merch through 

Bandcamp or Beatport to earn more from your music.
Contact blogs and find them via Hype Machine
Place ads to promote your Release
Promoting your music on Spotify has always been challenging, thanks to the various advertising options. One of the most effective ways to get your music heard is by using Spotify Ads. Spotify Ads allow you to target specific listeners based on their listening habits, demographics, and location. This means you can reach your ideal audience and increase your chances of getting your music playlisted.
Another great way to promote your music on Spotify is through Instagram and Facebook ads. These platforms allow you to reach a wider audience beyond just Spotify users. You can create visually appealing ads using images or videos of your music, and target specific demographics, interests, and behaviors. This allows you to reach potential fans who have not yet discovered your music.
Spotify also offers an advertising platform called "Ad Studio." This platform allows you to create and run audio and video ads on Spotify. You can target specific listeners based on their listening habits, demographics, and location. Ad Studio also offers real-time reporting, so you can track the performance of your ads and make adjustments as needed.
If you're looking for an even more high-impact way to promote your music on Spotify, consider using Spotify Marquee. This tool is designed for artists with at least 15,000 streams per month or over 2500 followers. With Marquee, you can create a full-screen ad that will be displayed to listeners when they open the Spotify app. This feature allows you to showcase your new album, single, or tour and increase your chances of getting playlisted.
Spotify Music Promotion tips and tricks
Improve the Sound of your Music Production.
Free Mastering Sample?
Get your Test Mastering now. Because your music deserves brilliant & powerful sound.