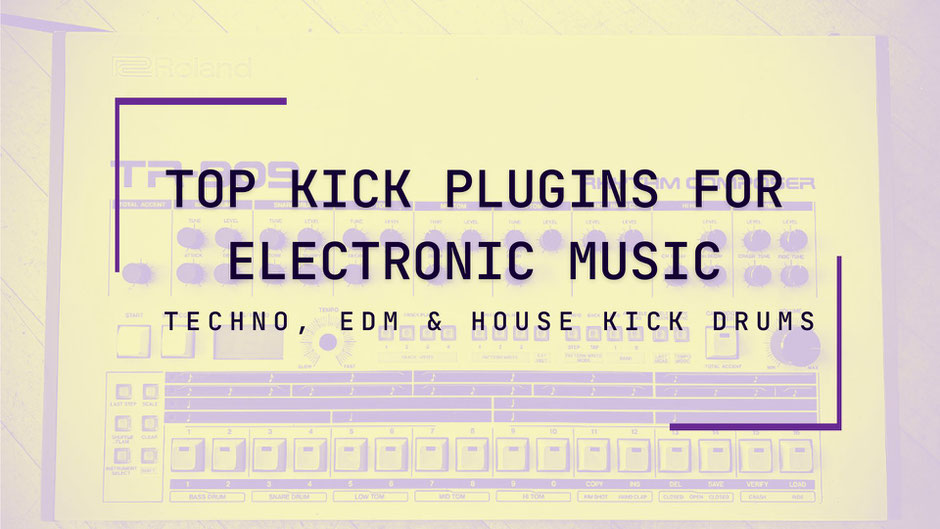 In the following blog post, I've brought you some kick drum plugins for electronic music. But if you use one of these tools, I recommend you pay attention to the following tips 
As an EDM music producer, when creating a kick for techno, electronic music, and house music, it's essential to focus on a few key elements. Firstly, pay attention to the sub-frequencies, as they are crucial for a powerful kick that will drive the beat and provide a solid foundation for the track. Experiment with different frequencies to find the sweet spot that works best for your track. 
Secondly, focus on the transient, which is the initial impact or attack of the sound. A sharp transient will give the kick a punchy, driving feel. Use transient shaping tools to create an intense, defined attack for your kick. You will find the punchy part of the kick transients, usually between 1000hz and 3000hz.
Thirdly, pay attention to the tail of the kick, which is the sustain or decay of the sound. A long, sustained tail will give the kick a round, full-bodied feel. Experiment with different tail lengths to find the perfect balance between punch and sustain for your kick.
Another critical aspect is layering different sounds to create complex and more exciting kicks. Experiment with layering samples, synthesis, and field recordings, reverb or delay to create unique and dynamic kicks. 
EQ is also important to shape the frequency content of your kick and a bit of compression/limiting is used to control the dynamic range and make your kick sound more powerful. 
Distortion and Saturation effects can add character and edge to a kick, and experiment with different distortion types and settings to create a unique and gritty sound for your kick. This technique ist often used for producing techno kicks.
In addition to these technical tips, it's essential to experiment with different kick samples and, so try other things, break the rules, and develop your own sound. 
If you are a beginner in music production, a 909 kick is typical in techno productions, and 808 kick sounds can be found in almost every trap production - just to give you a starting point.
Whats the difference? Drummachine vs. Generator vs. sampler vs. Sequencer
A drum machine plug-in is a software instrument that mimics the functionality and sound of a hardware drum machine. It typically includes a variety of drum and percussion sounds, a sequencer for creating patterns and beats, and various sound shaping and modulation features.
A sound generator plug-in, also known as a synthesizer plug-in, this a kind of vst instrument that generates electronic sounds using various synthesis techniques. 
A sampler plug-in is a software instrument that allows you to load and play audio samples, often with the ability to manipulate the samples in various ways, such as pitch shifting, time-stretching, and filtering.
A sequencer plug-in allows you to record, edit, and arrange audio and MIDI data within a digital audio workstation. It typically has groove editing tools and functions like shuffle, LFOs and accents.
Chop Suey by Tracktion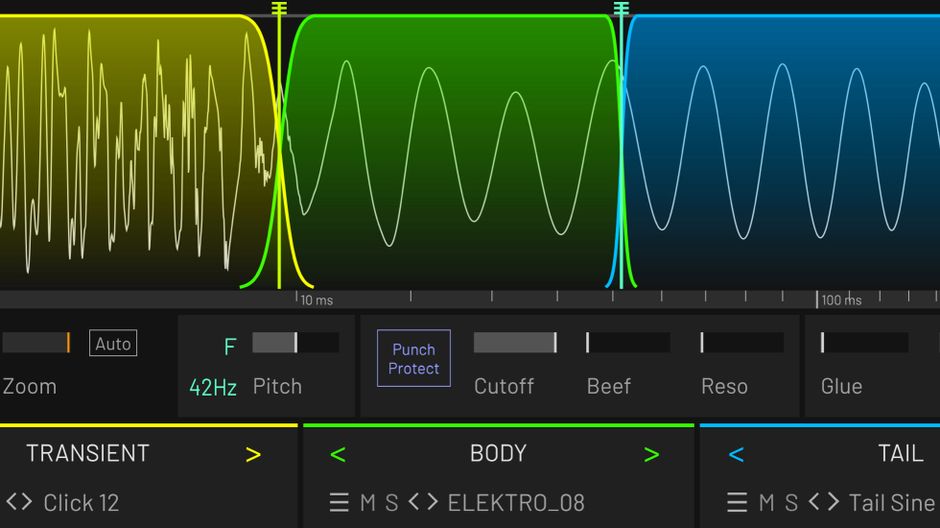 Chop Suey is a powerful EDM kick drum plug-in that makes creating low-end kicks easy and fun. The plugin's unique sequencing method eliminates the phasing problems associated with kick layering, allowing you to create a crisp transient, punchy body and distinctive tail. 
The visual display and precise editing capabilities, such as the use of curves and a specially designed filter, make it easy to shape the sound while protecting important frequencies that contribute to the kick's punch. Chop Suey was developed in close collaboration with top producers and artists in the dance music scene to optimise the workflow for professional use.
The plugin also includes a "Punch Protect" feature that protects important frequencies from the filter, ensuring that the punch of the kick is not weakened during sound shaping. The tool is aimed at electronic kick drum enthusiasts who like to chop or snip samples. It makes the process much easier, especially for beginners. It also comes with a well-stocked library of ready-made presets. The presets and samples deliver genre-typical sounds and are perfect for techno and house music producers.
Big Kick: Techno Drum samples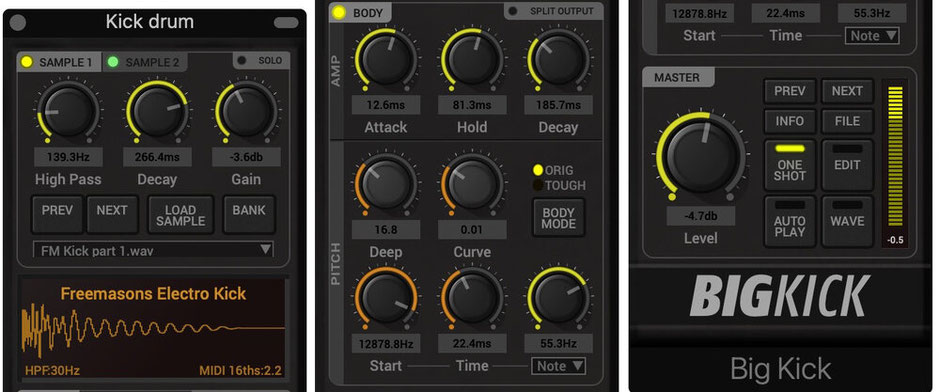 BigKick is a kick drum VST synthesizer for electronic music production, especially techno and house music. The plugin uses a combination of synthesis and sample-based techniques to create and shape kick drum sounds.
It offers a wide range of features, such as the ability to change the attack, hold and decay of the kick to optimize the punch and a pitch module to tune the kick drum to harmonize with the bass. It includes an overdrive function, three unique waveforms, and a hard clipper for creative processing. 
The plugin has many kick drum samples, including famous electronic music drum computers. The user can shape and customize the samples' sound using various built-in parameters such as envelope, pitch, and filter controls. Despite its advanced features and high-quality sound, BigKick is reasonably priced, making it an excellent value. It is a perfect choice for anyone working in dance music, where the kick drum is the heart of the track.
D16 Punchbox: for electronic music Kick Drums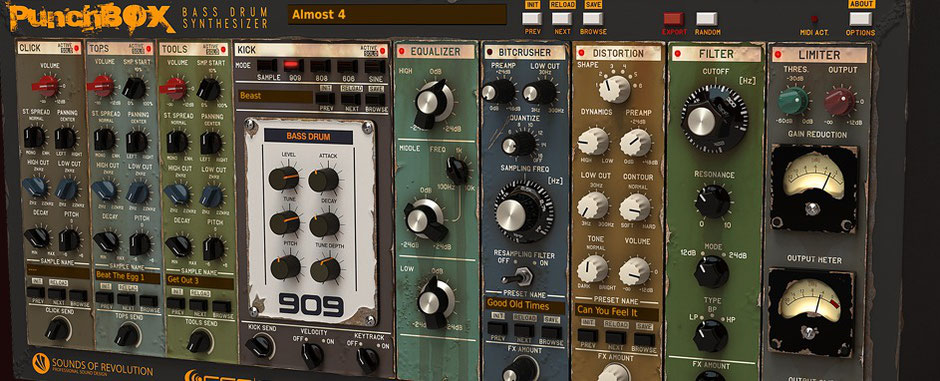 Punchbox by D16 Group is one of the best Techno kick vst plugins. There are no limits when designing your kick sounds.Punchbox is a powerful kick drum design plugin with many features for creating high-quality, dancefloor-crushing bangers. It combines expressive synthesis and rich, authentic sampling to create a unique and versatile sound. It has exclusive access to 1100 samples, and 800 presets created by some of the best sound designers in the industry. The built-in FX rack includes four high-quality effects (Bitcrusher, Filter, Distortion, and EQ) that allow users to perfect their kicks before sending them through the output limiter. The interface is intuitive and easy to use, making it quick and easy to get creative.
Punchbox is an excellent choice for EDM producers looking for a kick drum plugin. However, the D16 Group Punchbox stands out for its balance between instant access and sound shaping. Full MIDI control of almost every parameter makes it a more expressive instrument than other plugins. It also allows you to use external samples and, with the Key Tracking feature, even become a monophonic synthesizer. The only downside is the small interface. Overall, Punchbox is an excellent investment for those who already have a large one-shot sample library and want to explore it in a new way.
With the 800 presets, you can choose from the following categories:
909 Synth engine
808 Synth engine
606 Synth engine
Sine Synth engine
Bitcrusher Effect
Distortion Effect
D16 Drumazon - 909 Drum Clone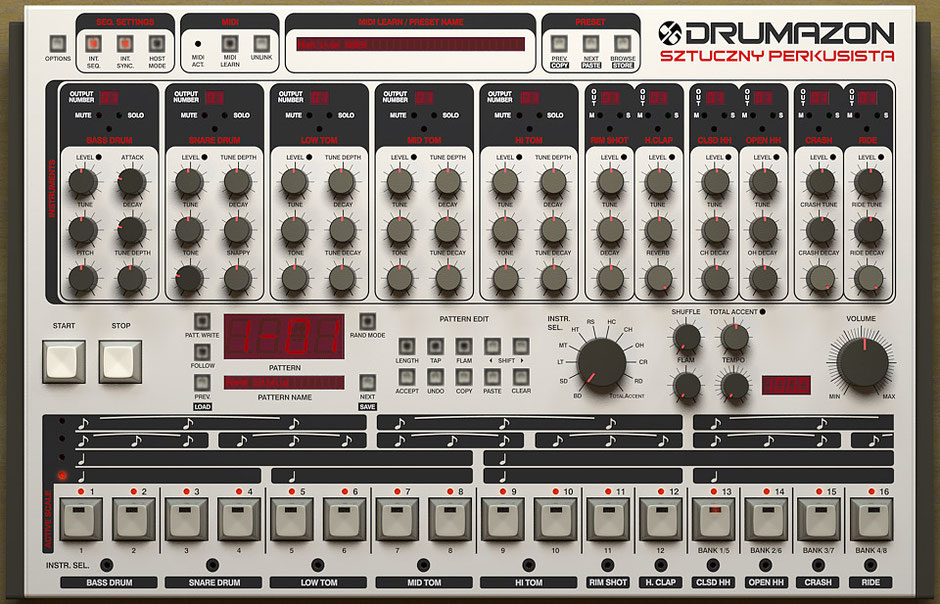 Drumazon is a virtual drum machine plugin that authentically emulates the classic Roland TR-909 drum machine. It allows you to recreate all the sounds of this legendary drum machine, including bass drum, snare, low tom, mid tom, hi tom, rim shot, clap, open and closed hi-hat, crash and ride sounds.
It also has an internal sequencer that allows you to easily program your drums. The plugin offers authentic sound and a familiar interface, with additional parameter extensions that make it even more versatile. With its flexible and storable multi-output routing, Drumazon is perfect for further processing and mixing in the DAW. It is a must-have for in-the-box producers who want to add the classic 909 sound to their productions
DrumComputer by Sugarbytes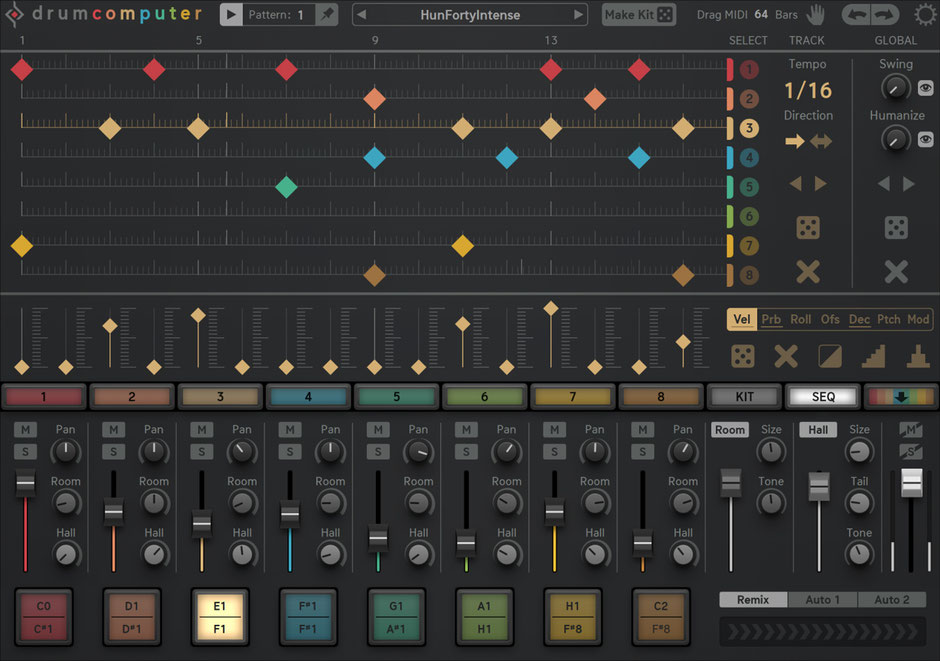 Sugar Bytes presents DrumComputer, a new interpretation of EDM drum machines. A total of 8 sound engines allow classic and modern forms of synthesis, and you can even use your own samples for resynthesis. The interface is sleek and intuitive, making it easy to navigate and find the right sound for your track.
The Kit view is a simplified version of the interface where you can assign sounds to each sound engine, giving them pitch, decay, modification, and a corresponding icon that makes it easier to assign each instrument type in the sequencer. The KIT view also provides access to the Master Effects section. Here you will find a transient shaper, compressor, maximizer, and saturator that can manipulate attack and release.
The sounds of the DrumComputer are fresh, electronic, and often techno-like. They all stand out when mixed with a bassline or a kick drum. 
Drum Computer allows users to create sounds from three different synthesis sources, making DrumComputer a remarkable and versatile tool for sound design.
To sum it up, Sugar Bytes from Berlin has succeeded in creating an independent drum machine with DrumComputer, primarily aimed at electronic music fans. It comes with 450 engine presets that can be combined in any way to create new patterns in no time. With its ability to connect classic and modern forms of synthesis, flexible modulation and luxurious sequencing, intelligent randomizers, and import your own samples, DrumComputer is a must-have for any electronic music producer looking to add new and exciting drums to their tracks.
Feature:
8 Sound Engines, each one layering a Resonator, Wavetable/Analogue Oscillator and Resynth/Sampler
Filter, Compressor, Overdrive, and 2 types of Send Reverbs (Room and Hall)
2 Envelope/LFOs, plus Synth-Engine-Modulators, Sequencer-Modulators, and ModMatrix
Intelligent Randomizers for endless drum sound possibilities
Eden 2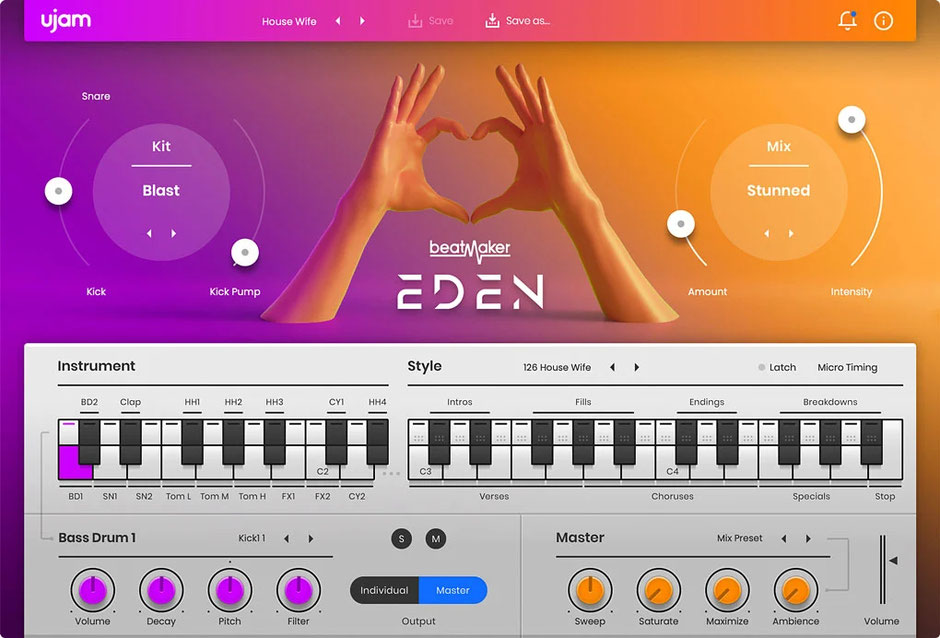 EDEN 2 by Ujam is a top-of-the-line EDM drum plugin that is perfect for techno and house music productions. The interface is simple yet powerful and offers a wide range of features that allow you to create custom drum sounds. The Drum Kit and Mix sections will enable you to select the drum kit of your choice and control the amount and intensity of each instrument.
 In addition, EDEN 2 offers a Pattern feature that lets you create different song sections and drag and drop them into your DAW for easy drum track creation. With dynamic side-chain compression, great presets, and 12 drum kits, EDEN 2 is a fantastic and feature-packed drum plugin for dance music.
You have individual control over volume, decay, pitch, and a low-pass filter for each drum sample. You can also swap sounds between kits to create your custom drum kit template. You can select either Single Out or Multi Out (a separate mixer channel for each sample). On the opposite side of the GUI, you can adjust four parameters in the effects preset you are currently using.
Eden 2 offers several improvements over the original EDEN, making it a more capable replacement for other electronic drum plugins. drum plugins. With the ability to customize and tweak to your liking, EDEN 2 is a perfect choice for EDM producers.
Features:
Dynamic Side-chain Compression
Awesome Presets
12 Drum Kits
Playbeat 3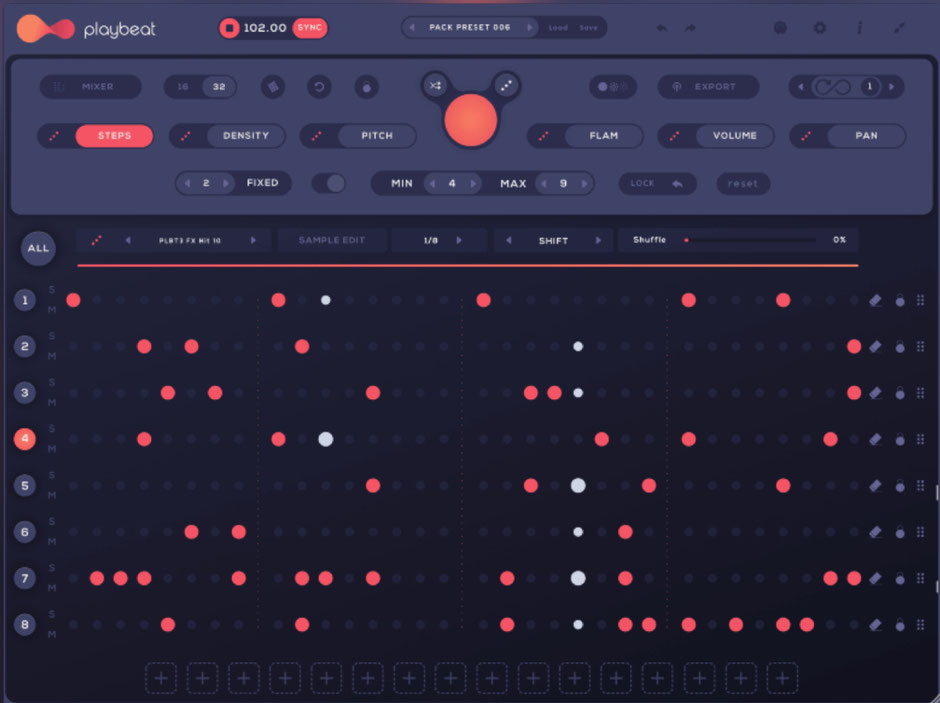 Playbeat is designed for those looking for a tool to quickly create complex rhythms and grooves.
One of the outstanding features of Playbeat 3 is its powerful sequencer. With eight independent sequencers, you have a lot of flexibility to create unique patterns and grooves. The sequencers allow you to control pitch shift, volume, pan, and more, giving you much control over the sound of your drums and percussion. 
Another great feature of Playbeat 3 is the ability to remix and edit. The interface is also beautiful and easy to use, making it a joy to work with.
Playbeat 3 also has sample management features and comes with a large number of presets. You can also create your own packs, giving you even more flexibility to create impressive sounds and grooves.
Overall, Playbeat 3 is an excellent choice for electronic music producers. It offers a wealth of features, a powerful sequencer, a beautiful interface, and a random function, making it an excellent tool for creating unique and varied grooves. With its affordable price, it's a precise budget tip and a great addition to any producer's toolkit.
Features;
Random Pattern Generator
8 Sequencers
Remix Algorithms
Rob papen RAW-Kick Plugin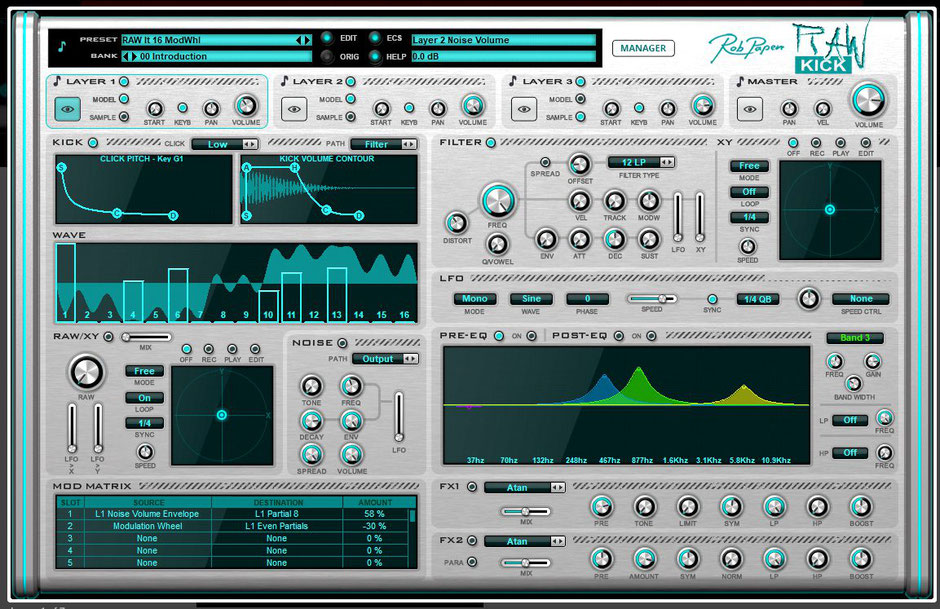 RAW-Kick is a product developed by DJ Free-K and DJ Promo based on the RAW synthesizer. It offers three individual layers for the design and construction of kick drum sounds, which producers can use together. Each layer has two modes: a dedicated kick drum synthesizer model or a sample-based layer.
The kick model type includes unique features such as the RAW amount and harmonic control. In contrast, the sample type contains features such as a multi-mode analog-modeled filter and various FX algorithms. The Master section includes a dual EQ and MONO/STEREO FX for controlling all three layers at once. RAW-Kick comes with presets from respected hardcore, hardstyle, and DnB producers and is considered a strong competitor to other kick plug-ins such as Native Instruments TRK-01 and D-16 Group Punchbox. It is known for its ability to create modulated percussion and monophonic synth sounds.
Loopmix by Audiomodern
As a music producer, Audiomodern's Loopmix is a creative sampler perfect for those who love electronic beats and are looking for inspiration. The plugin is excellent for quickly and effectively varying patterns using multiple audio loops. It's a must-have tool for remixers, but it can also be a welcome change for other producers.
While the plugin may not be particularly innovative, it brings a fresh dynamic to a well-organized DAW arrangement. You don't have to rely on the pre-loaded loop content, and you can import your own loops to stay true to your sound.
The Loopmix sampler makes it easy and fun to instantly remix and rearrange audio loops into new sounds. It has various features, such as loading up to 6 loops, creating infinite variations, and using randomization algorithms. The plugin also has an intelligent multifunctional keyboard that can generate up to two octaves of keys with different remixes of the loaded sounds. In addition, Loopmix has a dynamic preset feature that generates up to 24 various remixes at a time, allowing you to create and share your own personalized packs.
All in all, Audiomodern has delivered another plugin that is well worth the investment. Loopmix is a heavyweight multi-loop remixer perfect for studio and live performances. It offers endless inspiration and musical variety, making it a must-have tool for any electronic music producer.
Features
Generate Endless Different Remixes
1.6 GB of Built-In Sounds
180 Built-In Presets
6 X Intelligent Sequencer tracks
Vengeance Sound Metrum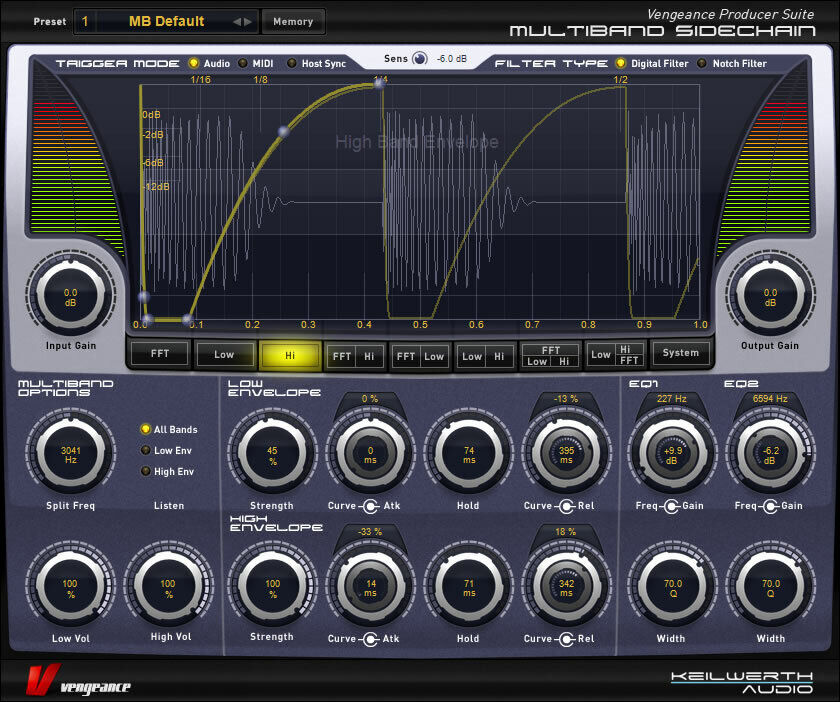 Vengeance Sound's Metrum Kick Synthesizer is another tool designed to help EDM producers create the perfect kick drum. It offers complete control over a kick's top, middle and bottom parts, including final compression and many other features. Its features include 330 kick drum presets, over 1800 attack samples and over 150 sine oscillator presets. It also allows the integration of your WAV samples, real-time & smooth graphic envelopes, flexible pitch & velocity routings, a vast mod matrix, and 6 high-quality built-in effects. 
The sound generation of Metrum uses a sine oscillator for the belly part and up to three sample layers for a crisp transient. All four sound components have numerous customizable parameters. Two filters per layer are available for sound shaping. Metrum's effects section includes distortion, bitcrusher, stereo matrix, stereo delay, room reverb, and gated reverb. A two-band parametric equalizer is also included. A powerful modulation matrix, an output limiter, and a random generator round out the extensive features.
In conclusion, Metrum is a highly flexible and powerful kick synthesizer with a great preset library and an intuitive interface, making it perfect for both beginners and advanced producers.
Rob Papen Punch BD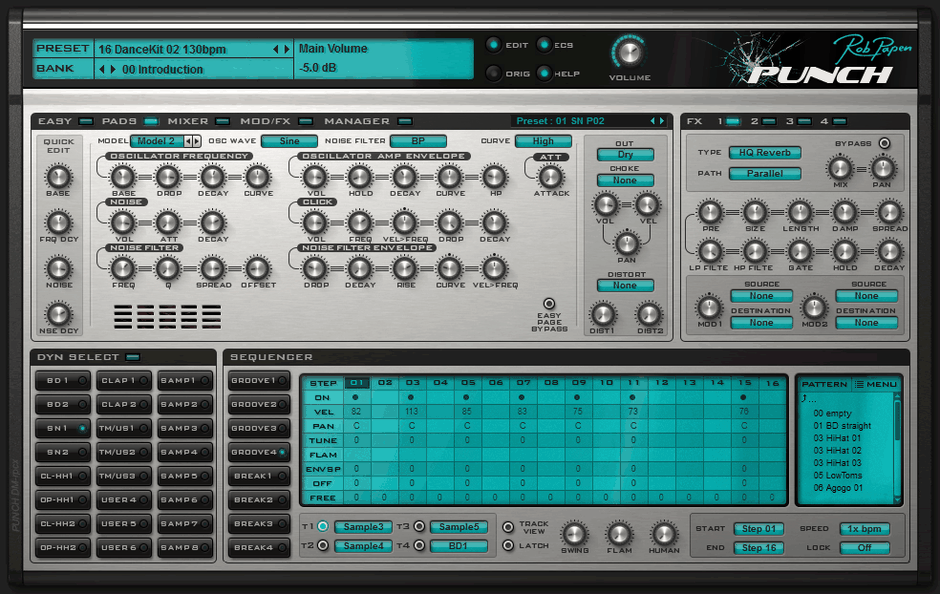 Rob Papen Punch BD is a bass drum synthesizer and sample player that focuses on providing a creative module to help you produce the fattest-sounding bass drums for your electronic music. It offers the ability to stack up to 6 bass drums. It allows you to split the 6 BD pads across the keyboard or use them 'stacked' in tuned mode to produce creative new BD sounds for all styles of EDM music.
Punch-BD delivers synthesized drums in the finest audio quality, or you can load your own samples for complete flexibility. Each pad has its own distortion module for hard-hitting drum productions, with multiple types of distortion and its own 3-band graphic EQ. Each individual pad also has its own preset section in addition to the overall BD kit.
Punch-BD features four FX units, each with 31 types of high-quality FX, plus additional filters, envelopes, modulation routings, and more to create your own unique sound. From electronic dance music to hip-hop, Punch-BD delivers a solid, speaker-smashing sound for your productions.
The Rob Papen sound engine is praised for its immediacy of sound quality and ability to cut through a mix beautifully. The product offers an ample supply of great drum models that are easy to tweak and customize and a beneficial supply of more preset-based content, ranging from programmed loops to reams of sample-based content. It's a great value and a heavyweight champion of EDM drum-based productions.
Battery 4 Drum Sampler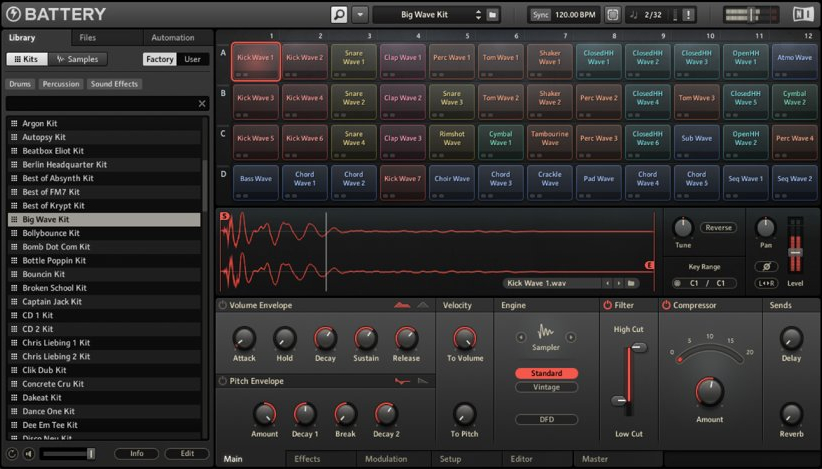 Battery 4 is a very popular and well-known drum plugin for electronic music production, especially among techno and house music producers. It is known for its huge collection of drum kits, samples and other sound elements that can be used to create custom kits.
The plugin offers a wide range of customization options, including volume, pitch, velocity, compression, and more. It also has built-in EQ, saturation, and the ability to create custom drum samples or kits. Battery 4 is a versatile and high-quality plugin that is perfect for electronic beat production. 
It is an all-around plugin that can be used for both live performance and beat production. However, it does not have an internal sequencer, which is one of its drawbacks. Overall, Battery 4 is an excellent product with a great workflow and is highly recommended for anyone interested in sample instruments.
Features:
A Huge Drum Collection
Very Customizable
Many Control options
Very High-Quality Sound