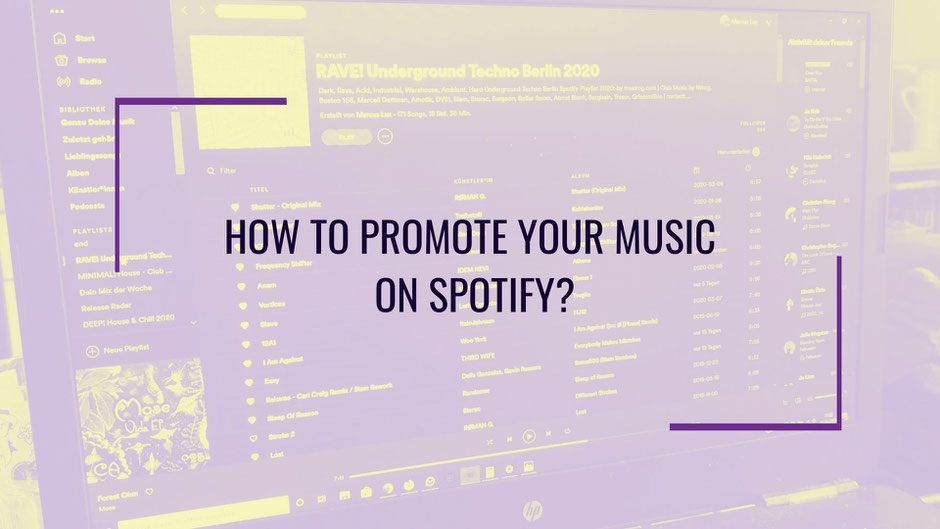 Promote on Spotify organicly
Every day thousands of new songs are released on Spotify,how do you manage to get Organic spotify promotion or Free Spotify Promotion? Read these real Spotify promotion tips and learn how to get more spotify plays and submit to Playlists. Read more about the best Spotify Promo tactics.
Best Way to Promote your Music on Spotify
Nowadays, unfortunately, it is advantageous to release shorter songs that are only 2-3 minutes long. Since your songs will be listened to more often, your play count can quickly skyrocket, which is an excellent opportunity for organic Spotify promotion.

 
Use Spotify for Artists:

 Claim your Artist profile or get access instantly through a distributor. This will give you access to statistics (how often your song has been played, how many times it was saved, and which countries and cities your song were listened to). Download also the app Spotify for Artists

Complete your Profile info via Spotify for Artists. Upload a current profile photo and add a bio to tell your story and connect to your audience.

Regularly release new Music every 4 to 6 weeks or every quarter of a year. It is essential to be remembered by your fans.

Consistent music publishing is king. To build up a fanbase, you must publish Music regularly over a long period to get organic growth on Spotify. You will see the first positive results if you are consistent. But it also depends on how good your marketing skills are and the quality of your Music.

Release Singles instead of EPs or Albums because you have more opportunities to regularly release new Music and find your audience.

Identify your unique music style; the Spotify algorithm will find the right listeners for you over time.

Use Artist's Pick to feature Music at the top of your profile. Make a track, an album, or a playlist the focus of your profile for two weeks.

Use Spotify Canvas to add looping visuals to your song: Spotify Canvas is a feature to upload 3-8 second looping videos to your release; this positively affects your shares, playlist ads, and streams. Use it now with Spotify for Artists.

To control your songs' success so far and get more interesting statistics about your releases, you can use Musicstax. So you get metrics about your songs' popularity, danceability, energy or positivity, or even the key and tempo. This tool is also interesting for analyzing your competition.

List your Concerts and DJ Gigs: connect your upcoming events via Ticketmaster, Songkick, Eventbrite or AXXS to make your followers aware of your next concerts. This can be done through the Spotify for Artists dashboard.  
Spotify Playlist Promotion
Pitch your Music to Official Spotify Playlists via Spotify for Artists (the latest you should be pitching is seven days before your release date, better than four weeks before). Log in to Spotify for Artists on Desktop; at the top of the home tab, select pitch a song, choose a song and fill out the info. The more information Spotify gets, the better your chances of being selected.

Submit to user-generated Spotify Playlists: Search popular playlists and try to contact music curators via Facebook, Instagram, Linkedin, or e-mail. Often the playlist curators use the same name as on Spotify. 

If you send your Music to playlist curators, check if the playlist has real followers. 

Isitagoodplaylist.com 

is an excellent Spotify playlist analyzer to see if the playlist has real value in promoting your songs.

Share any Playlists you are featured on via your Social Media Channels.

Spotify promotion Services: Find real organic Spotify Playlists or Music blogs through submithub. Some Submithub alternatives are Groover, Playlist Push, Indiemono, Soundplate, playlist-promotion, OmariMC, Moonstrive Media, Playlist Blaster to get organic spotify plays
With Oktiv.io you have a spotify playlist promotion service to find Playlist Curators in your Genre.
Also, I can recommend you to try Labelradar. With this excellent service, you can send your songs to big labels. So you have the chance to release your song on your favorite label to reach a bigger audience. Also, you can send your music to promoters to be accepted in huge Spotify Promotions playlists.
Another option is Fluence.io - here, you can get feedback for your music. You can also contact music curators and bloggers to promote your music on Spotify.
Don't buy Spotify plays, and do not take the risk of being banned as an artist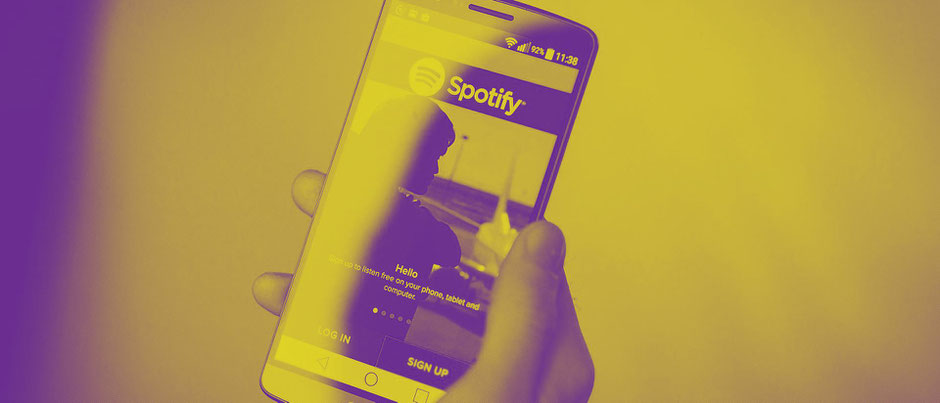 How to Promote a Playlist on Spotify
Build your own Playlists while supporting other artists and showcasing your sound.

Have a Strong Title: Use keyword optimization(SEO) to get found. Implement the most critical keywords in the title and your playlist description.

Target a Music niche rather than a mainstream topic. Search on Spotify if the Playlist has already been covered.

Another option is to Create a Mood Playlist instead of a Genre Playlist.

Curating short Playlists with no more than 1-4 songs by an artist.

Update your playlists frequently.

Play your own playlist to boost your organic Spotify promotion, this way the Spotify algorithm notices that your playlist is being listened to. This allows your playlist to be ranked higher in the search function.

Promote on Spotify and support Unknown Artists in your Playlists: it raises the awareness of the emerging artists they love and allows you to get featured on their "discovered on" page.

Contact artists and let them know about your Playlist. Artists always want to get music playlisted, so reach out; maybe they share the Playlist on their social media

Where to Promote your Playlists: listenspotify.com,Spotify Playlists on Reddit,
Use Social Media to Promote on Spotify
Create a 

Youtube Channel, show your music production skills, create explainer Videos and teach others. Indirectly, you can connect with people to show your Music and win new fans.

Use 

Instagram Reels

 or 

TikTok

 and add your Music to your short videos. Then direct your followers to Spotify to listen to the entire song.

Create infographics on social media that your followers can use to learn something.

Find Twitch users who play your Music in the background or ad your Music to their playlists.

Drive traffic to your Spotify Tracks via Social Media, Your Website, Reddit, Quora, etc.

Ask your Fans to follow you on Spotify, so your Music will show up in their Discover Weekly & Release Radar playlists.
Free Music Promotion tactics
Build your own website and generate traffic to your Music

Build an 

E-mail list

 and send your new Music releases to your Fans

Try to Collaborate with Other Musicians and produce remixes to get more Spotify plays and followers. 

Or ask other music artists to remix your songs, so you can both benefit from the respective follower range on Spotify.

You can also increase your reach by remixing more famous artists. This way, you can gain new listeners even if you probably can't publish the songs on Spotify. To find remix contests visit the following links: 

Skiomusic, Metapop, Kreasound, findremix

If your fanbase is big enough, try to convince them to buy your Music or merch through 

Bandcamp or Beatport to earn more from your music.
Contact blogs and find them via Hype Machine
Place ads to promote your Release
Promote your Music with Spotify Ads

Promote Your Music with Instagram and Facebook Ads

Use Spotifys advertising Plattform "Ad Studio"

Another tool you have to pay for is Spotify Marquee. To use Marquee you need at least 15,000 streams per month or over 2500 followers. But what is Marquee? Indeed you've opened the Spotify app and been recommended a new album. You will also have this opportunity if you use Marquee.
What are your favorite free Spotify music promotion tips? Let me know in the comments.
Spotify Music Promotion tips and tricks
Improve the Sound of your Music Production.
Free Mastering Sample?
Get your Test Mastering now. Because your music deserves brilliant & powerful sound.